Thursday, October 29, 2020
Steel Creek Galvanizing, LLC - Quality Inspector Steel Structures
Post-Hire Training
Recruitment #97-60-16
| | |
| --- | --- |
| Company | Steel Creek Galvanizing, LLC |
| Date Opened | 10/15/2020 10:00:00 AM |
| Filing Deadline | 11/16/2020 11:59:00 PM |
| Location | Cherokee |
Introduction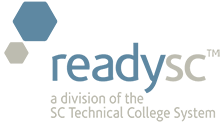 readySC™
in cooperation with
Spartanburg Technical College
is assisting with the recruitment and training for
Steel Creek Galvanizing, LLC
Steel Creek Galvanizing, LLC is launching a new facility in Cherokee County.  Designed to protect steel against rust and other corrosion, the hot-dip galvanizing operation will be an environmentally-friendly, zero-emission operation.  We are seeking qualified candidates for the start-up of our new facility in Blacksburg.
Potential employment opportunities exist for:
Quality Inspector Steel Structures 1st Shift
Job Duties:
Perform quality assessments on a regular basis of all outgoing products.

Reject all products and materials that fail to meet quality expectations.

Read all plans and specification to understand requirement of products.

Measure product dimensions and compare the final product to the specifications.

Advise Plant Supervisor on all quality issues.

Keep records of all necessary inspections and computer-generated readings.

Work with customers to resolve quality issues.

Make recommendations to improve equipment performance, quality, and cost savings.
Expectations:
Recommend improvements to the process to ensure quality control.

Document inspection outcomes by completing detailed reports and performance records.

Teach production team about quality concerns to improve product excellence.

Resolve all customer complaints and/or concerns.

Resolve quality-related issues in a timely manner.
Experience Required:
High School Diploma or GED Equivalent preferred.

UT certification preferred.

Prior galvanizing experience is desired but not a requirement.

Must be able to work in an open environment exposed to extreme temperatures.

Must demonstrate great attention to detail. Set high standard for work relationship.

Must be able to lift 50 lbs.

Works independently with minimal supervision once assignments or responsibilities outlined and delegated.  Displays a strong sense of ownership for work.

Not hesitant to resolve lack of clarity, structure or definition of outcomes then moves ahead.

Demonstrates initiative, sense of urgency and, bias for action.  Self-motivated, naturally proactive with high energy level when addressing work tasks.

Effective in oral and written communications at all levels and cross functionally.  Able to express complex technical concepts to diverse groups of people.
Starting wage Based on experience. Potential sign-on bonus or relocation assistance.
Shift: 1st (7:00 am – 3:30 pm)
Steel Creek Galvanizing, LLC offers health insurance benefits including medical, dental, vision, life, 401(k).
An Equal Opportunity Employer
Click on a link below to apply for this position: