Thursday, October 29, 2020
Steel Creek Galvanizing, LLC - Galvanizing Supervisor
Post-Hire Training
Recruitment #97-60-17
| | |
| --- | --- |
| Company | Steel Creek Galvanizing, LLC |
| Date Opened | 10/15/2020 10:00:00 AM |
| Filing Deadline | 11/16/2020 11:59:00 PM |
| Location | Cherokee |
Introduction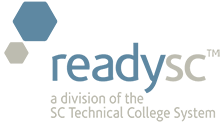 readySC™
in cooperation with
Spartanburg Technical College
is assisting with the recruitment and training for
Steel Creek Galvanizing, LLC
Steel Creek Galvanizing, LLC is launching a new facility in Cherokee County.  Designed to protect steel against rust and other corrosion, the hot-dip galvanizing operation will be an environmentally-friendly, zero-emission operation.  We are seeking qualified candidates for the start-up of our new facility in Blacksburg.
Potential employment opportunities exist for:
Galvanizing Supervisor 1st and 2nd Shift
Job Duties:
Supervises the plant processing operations to achieve efficiency, cost-effectiveness, on-time production, and a quality product.

Implements the facility's Safety Program as directed.

Manages the facility's Environmental Program as directed.

Supervises the operation of acid recycling, flux recycling, galvanizing kettle, and various departments.

Assists Plant Supervisor Manager on plant schedules and issues.

Provides input on requirements needed to maintain cost efficiency on our products.

Makes recommendations to improve production flow, equipment performance, quality of the product, and cost savings.

Implement quality control measures developed by the QA/QC department.

Expectations:
Supervise and manage approximately 20 employees.

Responsible for the coordination and evaluation of these units.

Provides appropriate instruction and/or training resources to employees.

Maintains the inventory of raw materials, spare parts, equipment necessary for facility operation, and advise Plant Manager of needs promptly.

Experience Required:
A supervisor or operational management of batch hot-dip facility experience required.

Five + years' experience in heavy steel fabrication or similar industry.

Demonstrated knowledge and ability to manage staff.

Some background in the galvanizing process preferred.

Ability to carry out supervisory responsibilities per policy and applicable laws.

Have a strong working knowledge of OSHA and EPA rules and regulations.

Strong Communication skills.

Demonstrates initiative, sense of urgency, and a bias for action. Self-motivated, naturally proactive with a high energy level when addressing work tasks.

Effective in oral and written communications at all levels and cross-functionally. Able to express complex technical concepts to diverse groups of people.

Well organized in both work habits and communications. Uses good time management skills.

Continually strives to learn more to improve self. Sets high standards for both work and interpersonal work relationships.

Starting wage $50,000 – $55,000 depending on experience.
Shifts: 1st (7:00 am – 3:30 pm), 2nd (11:30 am – 8:00 pm)
Steel Creek Galvanizing, LLC offers health insurance benefits including medical, dental, vision, life, 401(k).  
An Equal Opportunity Employer
Click on a link below to apply for this position: