Thursday, October 29, 2020
Steel Creek Galvanizing, LLC - Scale House/Shipping Clerk
Post-Hire Training
Recruitment #97-60-18
| | |
| --- | --- |
| Company | Steel Creek Galvanizing, LLC |
| Date Opened | 10/15/2020 10:00:00 AM |
| Filing Deadline | 11/16/2020 11:59:00 PM |
| Location | Cherokee |
Introduction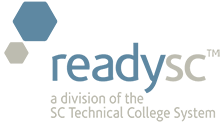 readySC™
in cooperation with
Spartanburg Technical College
is assisting with the recruitment and training for
Steel Creek Galvanizing, LLC
Steel Creek Galvanizing, LLC is launching a new facility in Cherokee County.  Designed to protect steel against rust and other corrosion, the hot-dip galvanizing operation will be an environmentally-friendly, zero-emission operation.  We are seeking qualified candidates for the start-up of our new facility in Blacksburg.
Potential employment opportunities exist for:
Scale House/Shipping Clerk
1st and 2nd Shift
Job Duties and Responsibilities:
Check and verify all information on the driver's paperwork for accuracy

Checking weights & counts of items for billing processing and weight restrictions

Radio communication with loading operators

Maintain accurate inventory

Maintain accurate daily records of scale operations as required.

Be knowledgeable of the galvanizing process to make process improvement recommendations

Learn and follow administrative guidelines

Learn and follow safety regulations.

Monitor operations to ensure that health and safety standards are met.

See more occupations related to this task

Assist in executing of orders  
Expectations:
Minimizes downtime and delays with efficient processing.

Maintain safe and efficient work area.

Maintain proper housekeeping.

Maintains necessary supplies and consumables for proper operation.

Communicate equipment issues, damage.

Report all accidents to Plant Superintendent immediately.

Assist in other tasks as needed 
Qualifications:
High School diploma or equivalent
1-2 years relevant work experience in a related field
Position may require bending, stooping, or reaching above shoulders
Must be able to lift 75 pounds
Must have reliable transportation
Starting wage $13-$16 depending on experience.
Steel Creek Galvanizing, LLC offers health insurance benefits including medical, dental, vision, life, 401(k)  
An Equal Opportunity Employer
Click on a link below to apply for this position: