Sunday, September 19, 2021
Steel Creek Galvanizing, LLC - Kettle Operator
Post-Hire Training
Recruitment #97-60-19
| | |
| --- | --- |
| Company | Steel Creek Galvanizing, LLC |
| Date Opened | 9/14/2021 3:00:00 PM |
| Filing Deadline | 9/30/2021 11:59:00 PM |
| Location | Blacksburg, SC |
Introduction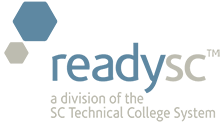 readySC™
in cooperation with
Spartanburg Technical College
is assisting with the recruitment and training for
Steel Creek Galvanizing, LLC
Steel Creek Galvanizing, LLC is in Cherokee County.  Designed to protect steel against rust and other corrosion, the hot-dip galvanizing operation is an environmentally friendly, zero-emission operation.  We are seeking qualified candidates for our facility in Blacksburg.
Potential employment opportunities exist for:
Kettle Operator
Job Duties:
Inspect all lifting equipment prior to use (forklifts, cranes, monorails, chains, slings, etc.).

Inspect all material before galvanizing to insure material meets all Steel Creek Galvanizing Safety guidelines and procedures.

Add zinc and other alloys to the kettle as necessary in order to maintain proper levels and proper quality of product. 

Sweep ash from the kettle on a continual basis and store ash in barrels for later use. 

Dross kettle (remove sludge) on a predetermined schedule according to Steel Creek Galvanizing guidelines. 

Inform Kettle Lead of any quality concerns and/or maintenance problems. 

Ensure all galvanized products meet Steel Creek Galvanizing quality requirements, minimize downtime, and promote efficiency and up-time. 

Communicate all safety concerns or accidents to the Plant Supervisor immediately. 

Expectations:
Producing a quality galvanized product each and every time by following all Steel Creek Galvanizing guidelines and through proper training.

Safely performs every step of the pre-treatment process.

Minimizes downtime and delays with efficient processing and employee direction.

Maintain safe and efficient kettle temperatures and kettle zinc levels always.

Maintains proper housekeeping and kettle maintenance.

Maintains necessary supplies and consumables for proper operation.

Complete all inspections and finishing of product is as directed. 

Experience Required:
High School Diploma or GED Equivalent preferred.
Prior Galvanizing experience is desired but not a requirement.
Must be able to work in an open environment exposed to extreme temperatures.
Must be able to obtain STS Forklift/Crane Certification.
Must be physically able to climb stairs and ladders and able to lift 75 lbs.
Must be capable of boarding and un-boarding trucks for inspection and/or rigging.
Works independently with minimal supervision. Displays a strong sense of ownership for work.
Copes with ambiguity, change and uncertainty effectively. Not hesitant to resolve lack of clarity, structure or definition of outcomes then moves ahead.
Demonstrates initiative, self-motivated, proactive, and works effectively in multi-task environment.
Shift: 1st Shift
Starting wage $15 per hour
Steel Creek Galvanizing, LLC offers health insurance benefits including medical, dental, vision, life, 401(k)  
 To apply go to https://steelcreekgalv.com/postings
You will be taken to another website.
An Equal Opportunity Employer