Thursday, October 29, 2020
Steel Creek Galvanizing, LLC - Specialized Forklift Operator
Post-Hire Training
Recruitment #97-60-21
| | |
| --- | --- |
| Company | Steel Creek Galvanizing, LLC |
| Date Opened | 10/15/2020 10:00:00 AM |
| Filing Deadline | 11/16/2020 11:59:00 PM |
| Location | Cherokee |
Introduction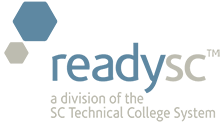 readySC™
in cooperation with
Spartanburg Technical College
is assisting with the recruitment and training for
Steel Creek Galvanizing, LLC
Steel Creek Galvanizing, LLC is launching a new facility in Cherokee County.  Designed to protect steel against rust and other corrosion, the hot-dip galvanizing operation will be an environmentally-friendly, zero-emission operation.  We are seeking qualified candidates for the start-up of our new facility in Blacksburg.
Potential employment opportunities exist for:
Specialized Forklift Operator for Shipping/Receiving
1st and 2nd Shift
Job Duties
Unloads inbound shipments of steel structures and fabricated steel.

Moves product to appropriate storage locations using a forklift.

Moves and prepares product for production and shipment.

Responsible for quality, safety, organization, & cleanliness of work area.

Communicating and working well with others Performs other duties as assigned
 Experience Required:
High School diploma or GED equivalent. 

This is a specialized position and 1 to 3 years of recent forklift experience of heavy steel structures and fabricated steel is required. 

Communication skills required to communicate efficiently within all levels of a team environment via two-way radio, email and in person.

Must be able to comply with safety rules, operating maintenance instructions and procedure manuals.

Required PPE includes safety glasses, steel-toe metatarsal boots and hearing protection worn at all time on the production

Must be able to work in all types of weather conditions including heat and cold. 

Must be able to lift up to 50 pounds Must be able to reach, climb in/out of forklift, bend, stoop, sit, stand and grasp.
Starting wage depending on experience.
Steel Creek Galvanizing, LLC offers standard benefits package including paid time off.
An Equal Opportunity Employer
Click on a link below to apply for this position: