Sunday, September 19, 2021
Steel Creek Galvanizing, LLC - General - Finisher
Post-Hire Training
Recruitment #97-60-22
| | |
| --- | --- |
| Company | Steel Creek Galvanizing, LLC |
| Date Opened | 9/14/2021 3:00:00 PM |
| Filing Deadline | 9/30/2021 11:59:00 PM |
| Location | Blacksburg, SC |
Introduction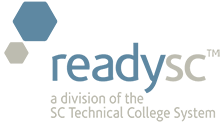 readySC™
in cooperation with
Spartanburg Technical College
is assisting with the recruitment and training for
Steel Creek Galvanizing, LLC
Steel Creek Galvanizing, LLC is launching a new facility in Cherokee County.  Designed to protect steel against rust and other corrosion, the hot-dip galvanizing operation will be an environmentally-friendly, zero-emission operation.  We are seeking qualified candidates for our facility in Blacksburg.
Potential employment opportunities exist for:
General Finisher
1st and 2nd Shift
Job Duties:
Ensure all galvanized products meets quality requirements, minimize downtime, and promote efficiency and uptime

Read work orders or receive oral instructions to determine work assignments, material/equipment

Must use good judgment, follow instructions and have good problem-solving abilities.

Relies on instructions and pre-established guidelines to perform the functions of the job.

Record number of units handled or moved, using daily production sheets or work tickets

Runs, maneuvers, navigates or drives heavy equipment or mechanized equipment in finishing area,

Inform QA/QC Technician of any quality concerns and inform Maintenance Lead on equipment failures/concerns.

Counts, weighs or measures outgoing items against bills of lading, invoices, orders or other records.

Move freight, stock, or other materials to and from storage or production areas with forklifts.

Transports heavy equipment and materials.

Attach identifying tags to containers or mark them with identifying information.

Inspect all lifting equipment prior to use (forklifts, cranes, monorails, chains, slings, etc).

Inspect all material before galvanizing to insure material meets all Safety guidelines and procedures.

Adhere to established housekeeping standards.

Additional duties as assigned by Supervisor and/or Management.
 Experience Required:
Ability to read and write in English highly preferred.

High school diploma or GED equivalent preferred.

Must be able to obtain Crane/Forklift Certification.

Prior experience in a manufacturing facility and use of forklifts and cranes highly preferred.

Must be able to lift to 75 pounds on a regular basis.

Must be able to perform physical activities that require considerable use of arms and legs and moving entire body, such as climbing, lifting, balancing, walking, stooping, bending, twisting and handling of materials.

Must be able to work in an outside environment for long shifts, including weekends.

Position requires manual dexterity, arm-hand steadiness and a safety-minded individual.

Must be able to work in an open environment exposed to extreme temperatures.

Must have the ability to concentrate on tasks for long periods of time.

Ability to pay attention to details and multi-task as well as identify, define, and resolve problems.

Good communication skills and ability to work well with people in many positions

Actively seeks and supports continuous improvement activities in process efficiencies, costs and effectiveness of work

Knowledge of general safety guidelines and quality expectations and application in the work place
Shift:  First, Second, and some flexible shifts available
Starting wage $15
Steel Creek Galvanizing, LLC offers health insurance benefits including medical, dental, vision, life, 401(k)  
 To apply go to https://steelcreekgalv.com/postings
You will be taken to another website.
An Equal Opportunity Employer