Steel Creek Galvanizing, LLC - Machine Operator
Post-Hire Training
Recruitment #97-60-23
| | |
| --- | --- |
| Company | Steel Creek Galvanizing, LLC |
| Date Opened | 5/12/2021 1:00:00 PM |
| Filing Deadline | 6/11/2021 11:59:00 PM |
| Location | Blacksburg, SC |
Introduction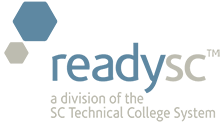 readySC™
in cooperation with
Spartanburg Technical College
is assisting with the recruitment and training for
Steel Creek Galvanizing, LLC
Steel Creek Galvanizing, LLC is launching a new facility in Cherokee County.  Designed to protect steel against rust and other corrosion, the hot-dip galvanizing operation will be an environmentally-friendly, zero-emission operation.  We are seeking qualified candidates for the start-up of our new facility in Blacksburg.
Potential employment opportunities exist for:
Machine Operator - 1st Shift
Job Duties:
Set up machine, making adjustments for each job
Set stops or guides to specified lengths
Use measurement tools to ensure accuracy
Read and understand written instructions
Operate equipment safely
Maintains equipment and ensures work area is clean and safe at all times
Accurately complete paperwork
Inspect all equipment prior to use 
Maintain safe and clean working environment by complying with procedures, rules, and regulations
Adhere to established housekeeping standards.
Additional duties as assigned by Supervisor and/or Management.
Experience Required:
Ability to read and write in English highly preferred.
Basic math skills 
High school diploma or GED equivalent preferred.
Prior experience in machine operating is highly preferred.
Must be able to perform physical activities that require considerable use of arms and legs and moving entire body
Must be able to work in an industrial environment for long shifts, including weekends as needed.
Must be able to work in an open environment exposed to temperatures.
Ability to pay attention to details and multi-task as well as identify, define, and resolve problems.
Good communication skills and ability to work well with people in many positions.
Actively seeks and supports continuous improvement activities in process efficiencies, costs and effectiveness of work.
Knowledge of general safety guidelines and quality expectations and application in the workplace.
Starting wage:  Commensurate with experience.
Steel Creek Galvanizing, LLC offers health insurance benefits including medical, dental, vision, life, 401(k) 
An Equal Opportunity Employer