Scout Boats - Production Associate
Pre-Hire Training
Recruitment #97-82-01
| | |
| --- | --- |
| Company | Scout Boats, Inc. |
| Date Opened | 6/15/2018 08:00:00 AM |
| Filing Deadline | 2/1/2019 10:00:00 AM |
| Location | Dorchester |
Introduction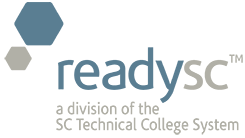 In Cooperation with
 Trident Technical College
is assisting with the recruitment and on-the-job training for
Scout Boats
Potential employment opportunities exist for:
Production Associate
Assembly is the part of the production process that is critical to the structural integrity of the boat. This operation assembles and installs the various parts of the boat using adhesives and mechanical fasteners. Assemblers must have the ability to properly use hand tools, air tools, cordless drills, etc. A large part of this job requires precise mechanical assembly which can include building and installing consoles, windshields, console rails, T-tops, swim platforms, cushions, bimini tops, stereos and speakers, hydraulic steering, engines, etc.
Finishing is the part of the production process that is responsible for the cosmetic qualities of the boat. The finisher inspects each fiberglass part for defects in gelcoat surface and composite layers. The finisher must be able to perform all phases of fiberglass and gelcoat repair on assigned parts with minimal supervision. They should also be able to work on any other fiberglass part in the plant with only general supervision.  
The laminator works with a crew of other laminators to build fiberglass parts of the boat that may include the deck, hull or small parts. Using hand lay up process to apply the skincoat and bulkcoat laminate, core materials and final layer of laminate, the laminator builds any fiberglass part used in the process. The laminator is able to perform all the basic duties of the lamination process such as defect-free fiberglass roll out, laminate sanding prep, part inspection and defect removal and startup and shutdown duties.  
Teamwork is a large factor in the success of the department. Quality standards, cost budgets, scheduling, safety and process control are the responsibilities of each member of the team.
Requirements:   
Must be able to use the basic tools applicable to the job

Be able to work with people as a team to accomplish department goals

Be able to adapt to changes in production operations

Must be able to work with fiberglass

Must be able to work Saturdays as needed

Must be able to work overtime Steel toe boots required

Must be able to lift up to 50lbs for Assembly positions
IMPORTANT DISCLAIMER NOTICE
The job duties, elements, responsibilities, skills, functions, experience, educational factors, and the requirements and conditions listed in this job description are representative only and are not exhaustive of the tasks that an employee may be required to perform.  The Company reserves the right to revise this job description at any time and to require employees to perform other tasks as circumstances or conditions of its business, competitive considerations, or the work environment change.
Training will be at no charge to trainees. 
Successful completion of the training program carries no obligation to accept any offer of employment, nor is an offer guaranteed.
Apply online now or at your local SC Works location.
https://www.scworks.org/directory.asp