Caterpillar - Sand Mixer
Post-Hire Training
Recruitment #98-41-06
| | |
| --- | --- |
| Company | Caterpillar |
| Date Opened | 10/12/2018 5:00:00 PM |
| Filing Deadline | 11/16/2018 09:00:00 AM |
| Location | Greenwood |
Introduction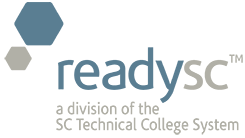 in cooperation with
 
Piedmont Technical College
will conduct a Special Training Program for:

Caterpillar Inc.
For 90 years, Caterpillar Inc. has been making sustainable progress possible and driving positive change on every continent. Customers turn to Caterpillar to help them develop infrastructure, energy and natural resource assets. With 2017 sales and revenues of $45.46 billion, Caterpillar is the world's leading manufacturer of construction and mining equipment, diesel and natural gas engines, industrial gas turbines and diesel-electric locomotives. The company principally operates through its three product segments - Construction Industries, Resource Industries and Energy & Transportation - and also provides financing and related services through its Financial Products segment.
Potential employment opportunities exist in Hodges, SC for:
Sand Mixer
As a Sand Mixer at Hodges Casting Products you will perform a variety of functions related to molding such as pattern mounting, mold closing, sand mixing, and iron pouring.  These functions may also be required to reline melting and holding furnaces and pouring ladles.
Job Duties/Responsibilities may also include :
·        Assembling and testing, reworking and repairing
·        Induction hardening, nitriding and furnace brazing
·        Carbonitriding and hardening from controlled atmosphere furnaces
·        Operating gas generating equipment to produce processing gases
·        Working with experimental, prove design and/or test lot parts which can be processed with limited deviation from standard procedure or parts on which the setup has already been made
·        Performing a variety of inspection functions following detailed procedures and instructions to check for accuracy of manufactured parts, rough castings, perishable tooling, etc.
·        May be assigned to perform torque testing, checking heat treatment of material, etc.  Includes simple plate inspection functions such as checking for flatness, squareness, parallelism, etc. 
Qualifications and requirements include:
One year of prior work experience
Top candidates will also have:
Previous machine shop, foundry, or manufacturing experience

Computer skills

Verbal and written communication skills

Problem solving and decision-making

Math skills
Physical Requirements:
Ability to frequently lift and carry boxes weighing up to 35 pounds

Ability to stand throughout a 12-hour shift

Ability to operate heavy machinery and manufacturing equipment
Additional Information:

Positions are for 1st shift
Positions are in Hodges, South Carolina
Starting wages will range from $14.40-$18.29 based on qualifications and/or experience
There is no relocation offered for this position.
Please ensure you frequently check the e-mail account you provided on your application, including the spam/junk folder, as this is the primary correspondence method in our recruiting process.
Caterpillar is not currently hiring individuals for this position who now or in the future require sponsorship for employment visa status; however, as a global company, Caterpillar offers many job opportunities outside of the U.S. which can be found through our employment website at www.Caterpillar.com/Careers
Apply online at www.Caterpillar.com/Careers
Clicking here takes you to another site to apply.
Job# 180009XD
Or at your local SC Works office
An Equal Opportunity Employer
Click on a link below to apply for this position: