7286 Wire Rope Cable Maintenance Supervisor
Recruitment #CBT-7286-M00246
| | |
| --- | --- |
| Department | Municipal Transportation Agency |
| Analyst | Raymond Kong |
| Date Opened | 7/2/2021 08:00:00 AM |
| Filing Deadline | 7/30/2021 5:00:00 PM |
| Salary | $123,864.00/year |
| Job Type | CBT Discrete |
| Employment Type | Full-Time |
Introduction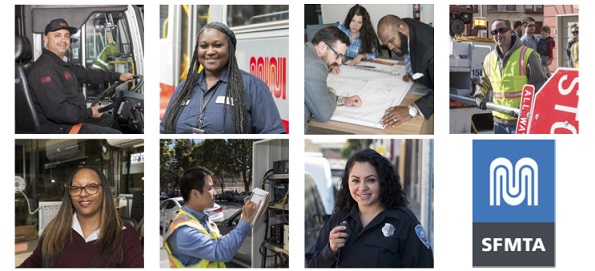 *ANNOUNCEMENT UPDATED 7/28/2021 TO REFLECT NEW CONDITION OF EMPLOYMENT*
CONDITION OF EMPLOYMENT:  All City and County of San Francisco employees are required to be vaccinated against COVID-19 as a condition of employment.  For details on how it is applicable to your employment, please click here.
The following information describes the civil service classification for which applications are being solicited.
Make sure you read the entire announcement before completing the application form.
The purpose of this examination announcement is to establish an eligible list for this classification.
Announcement has been extended to accept additional applications. Applicants who have already submitted their application do not need to reapply.
POSITION DESCRIPTION:
Under general direction, the Wire Rope Cable Maintenance Supervisor is responsible for supervising the maintenance and repair of the wire rope traction cable and its related component parts for the cable car system.  Essential functions include:  prioritizing, assigning, and directing the activities of personnel involved in the maintenance and repair of traction cables and cable machinery components; planning and preparing schedules and work assignments; reviewing work orders; preparing reports and overseeing maintenance of other documents; reviewing and approving data entries; maintaining inventory and overseeing delivery of traction cable and all other related cable machinery components; advising and instructing staff; reviewing and enforcing safety requirements and making recommendations; supervising the activities of related personnel; driving non-revenue vehicles as required.
Nature of work: Some positions require work in confined, noisy spaces such as near large generators and sub-stations units; may work in hot environments and work in close proximity of others; incumbents are required to work rotating shifts, weekends and holidays.
1. Four (4) years of journey-level work experience in the operation and maintenance of a wire rope traction cable system and its related component parts and equipment.  This must include experience in installing, repairing and long splicing wire rope traction cable; AND
2. Possession of a valid Class C driver license.
Note:  Experience in electrical wire splicing, telecommunication cable splicing, fiber optic cable splicing or related fields, is not qualifying.
ADDITIONAL NOTES:
Make sure your application and any attachments to the application submitted at the time of filing are complete and accurate and include details on all experience, education, training and other information that qualifies you for this recruitment.  Failure to submit a complete and accurate application at the time of filing may result in your ineligibility for this recruitment or inability to receive full credit for scoring purposes.  Any new information concerning work experience, education, training and other information that is submitted after the filing deadline may not be used for scoring or considered to determine whether you meet the minimum qualifications. Applications completed improperly may be cause for ineligibility, disqualification or may lead to lower scores.
HOW TO APPLY:
City and County of San Francisco employment applications for this examination will be accepted through an on-line process only. Mailed, hand delivered or faxed applications will not be accepted. Visit www.jobaps.com/sf to begin the application process.
•           Click and select 7286 Wire Rope Cable Maintenance Supervisor (CBT-7286-M00246)
•           Click on "Apply" and read and acknowledge the information
•           Click on "I am a New User" if you have not previously registered, or on "I have REGISTERED PREVIOUSLY"
•           Follow instructions given on the screen.
In order to comply with social distancing guidelines due to COVID-19, staff is working remotely at this time.  As a result, the Department of Human Resources (DHR)'s and SFMTA's Human Resources offices are currently closed to the general public. We highly recommend applications be completed early.  If you are having difficulty submitting your application online, please contact us at 415-646-2372 between 8:30 a.m. – 12:00 p.m. and 1:00 p.m. - 4:30 p.m. Monday through Friday or by e-mail at Raymond.Kong@sfmta.com.
Applicants may be contacted by e-mail.  It is their responsibility to ensure that their registered e-mail address is accurate and kept up-to-date.  Also, applicants must ensure that email from CCSF is not blocked on their computer by a spam filter.  To prevent blocking, applicants should set up their email to accept CCSF mail from the following addresses: (@sfgov.org, @sfdpw.org, @sfport.com, @flysfo.com, @sfwater.org, @sfdph.org, @asianart.org, @sfmta.com, @sfpl.org).
Upon successful submittal of the application online, the applicant will receive a notification on the screen, as well as in the applicant's e-mail inbox, acknowledging the receipt of the application by the SFMTA - Merit Section.
VERIFICATION:
Applicants may be required to submit verification of qualifying experience, education, and driver license at any point in the application, examination and/or departmental selection process. Written verification (proof) of qualifying experience must verify that the applicant meets the minimum qualifications stated on the examination announcement. Written verification must be submitted on employer's official letterhead, specifying dates of employment, types of employment (part-time/full-time), job title(s), description of duties performed, and the verification must be signed by the employer. City employees will receive credit for the duties of the class to which they are appointed. Credit for experience obtained outside of the employee's class will be allowed only if recorded in accordance with the provisions of the Civil Service Commission Rules. Experience claimed in self-employment must be supported by documents verifying income, earnings, business license and experience comparable to the minimum qualifications of the position. Copies of income tax papers or other documents listing occupations and total earnings must be submitted. If education verification is required, information on how to verify education requirements, including verifying foreign education credits or degree equivalency, can be found at http://sfdhr.org/index.aspx?page=456.
Note: Falsifying one's education, training, or work experience or attempted deception on the application may result in disqualification for this and future job opportunities with the City and County of San Francisco.
SELECTION PROCEDURE:
Minimum Qualification Supplemental Questionnaire (Weight: Qualifying):
Candidates will be prompted to complete a Supplemental Questionnaire as part of the online employment application. This Minimum Qualification Supplemental Questionnaire is designed to obtain specific information regarding an applicant's experience in relation to the Minimum Qualifications for this position. Applicants must also complete the official application. It is essential that applicants provide complete information in identifying their education, experience and training. The Minimum Qualification Supplemental Questionnaire will be used to evaluate if the applicant possesses the required minimum qualifications.
Basic Supervisory Exam: (Weight: 60%)
Candidates will be administered a written multiple-choice examination that is designed to measure basic knowledge of various supervisory practices and procedures (e.g. directing, counseling, guiding, evaluating, motivating, disciplining, developing and training subordinates, delegation, etc.) as well as customer service and reading comprehension.
This is a standardized examination and, therefore, test questions and test answers are not available for public inspection or review.
The examination is administered via computer or in paper format.  Qualified candidates will be notified of the particular format to be used in their test appointment notification.
The score you achieve on this examination shall be valid and 'banked' for three years, starting from the date of the examination. This means that, during this three-year time period, you will not be required to take this test again should you apply and be found eligible for a future announcement for which this particular test is used. Please note this test is used for other supervisory classes therefore your test score may be applied to one or more of these classes if you choose to apply to future recruitments. If the test for this future announcement is held within one year of the date of this examination, your score will be automatically applied to that announcement. However, after one year, you have the option to either (a) apply your test score to the other announcement or (b) re-take the test. Re-testing is permitted no sooner than one year from the date of the examination and only in association with your eligibility for another announcement for which this test is used. Please note that, should you re-test, your re-test score would become your official score since it is the most recent.
For your reference, a Multiple-Choice Test Preparation Manual is available on the DHR website: http://www.sfdhr.org/modules/showdocument.aspx?documentid=18426.
Only those applicants who pass the Basic Supervisory Exam will receive a score on the Supplemental Questionnaire.
Training and Experience Evaluation (Weight: 40%)
Candidates will be prompted to complete a Supplemental Questionnaire that must be submitted as part of the online employment application process. The Supplemental Questionnaire is designed to measure knowledge, skills and/or abilities in job-related areas.
CERTIFICATION RULE:
The certification rule used for the eligible list resulting from this selection process will be the Rule of Three Scores.  The hiring department may conduct additional selection processes to make final hiring decisions.
ELIGIBLE LIST:
A confidential eligible list of applicant names that have passed the civil service examination process will be created, and used for certification purposes only. An examination score report will be established, so applicants can view the ranks, final scores and number of eligible candidates. Applicant information, including names of applicants on the eligible list, shall not be made public unless required by law. However, an eligible list shall be made available for public inspection, upon request, once the eligible list is exhausted or expired and referrals resolved. The eligible list/score report resulting from this civil service examination process is subject to change after adoption (e.g., as a result of appeals), as directed by the Human Resources Director or the Civil Service Commission.
The duration of the eligible list resulting from this examination process will be 24 months, and may be extended with the approval of the Human Resources Director.
To find Departments which use this classification, please see https://sfdhr.org/sites/default/files/documents/ASO-Level-Chart.pdf?documentID=21246.
Medical Examination/Drug Testing:
Candidates who are being considered for appointment for positions which may be required to pass a medical examination. Candidates who cannot meet the medical requirement will be placed under waiver until this requirement is met. The medical examination will be administered only to those applicants who are being considered for appointment.
The San Francisco Municipal Transportation Agency (SFMTA) has determined that Class 7286 Wire Rope Cable Maintenance Supervisor is a "safety-sensitive" position, under regulations issued by the Federal Transit Administration (49 CFR Part 655). Federal law requires that all transit employees who perform safety-sensitive functions be subject to random, post-accident, reasonable suspicion, return-to-duty and follow-up drug and alcohol testing. All applicants for Safety-Sensitive positions shall undergo urine drug testing prior to employment and within 90 days prior to performing Safety-Sensitive functions for the first time. Receipt by the SFMTA of a negative test result is required prior to the employee being placed on the payroll. A positive, adulterated, negative dilute or substituted test will result in a decision not to hire, and the applicant's name will be removed from the list of eligibles for Safety-Sensitive positions. The SFMTA will not consider hiring any person who tested positive, adulterated, substituted or refused to submit to testing for a minimum of two years following the positive test.
In addition, each applicant who has worked for a Department of Transportation (DOT)-regulated employer(s) within the last two years will be required to sign a consent form, prior to appointment, authorizing SFMTA to obtain information from his/her prior employers concerning his/her drug and alcohol test history. Each applicant will also be required to provide SFMTA with information regarding whether, during the last two years, the applicant tested positive or refused to test on any pre-employment drug or alcohol test administered by an employer to which the applicant applied for, but did not obtain, safety-sensitive transportation work covered by DOT drug and alcohol testing rules. SFMTA will not hire any applicant for a safety-sensitive position who fails to provide this information or fails to provide written consent for the release of information from prior employers.
Reasonable Accommodation Request:
Information on requesting reasonable accommodation for persons with disabilities can be found at: http://sfdhr.org/information-about-hiring-process#applicantswithdisabilities
Qualified applicants with disabilities requiring reasonable accommodation in the selection process must contact the SFMTA by phone at 415.646.2372 or 415.701.5043 (TTY); or in writing to: SFMTA Human Resources, Merit Section, 1 South Van Ness, 6th Floor, San Francisco, CA 94103.  For further information, contact 415.646.2372.
Veteran's Preference:
Information regarding requests for veterans preference can be found at:
http://sfdhr.org/information-about-hiring-process#veteranspreference
Seniority Credit in Promotional Exams:
http://sfdhr.org/information-about-hiring-process#senioritycredit
General Information concerning San Francisco Municipal Transportation Agency Employment Policies and Procedures:
Employment Information for the San Francisco Municipal Transportation Agency can be obtained at http://sfdhr.org/information-about-hiring-process, or hard copy at 1 South Van Ness Avenue, 6th Floor.
Terms of Announcement and Appeal Rights
Applicants must be guided solely by the provisions of this announcement, including requirements, time periods and other particulars, except when superseded by federal, state or local laws, rules or regulations.  [Note: The correction of clerical errors in an announcement may be posted on the Department of Human Resources website at www.jobaps.com/sf.] The terms of this announcement may be appealed under Civil Service Rule 410.4.  Such appeals must be submitted in writing to the San Francisco Municipal Transportation Agency ATTN: Human Resources Merit Section, 1 S Van Ness Avenue, 6th Floor, San Francisco, CA 94103-5413 by close of business on the 5th business day following the issuance date of this examination announcement.  Information concerning other Civil Service Commission Rules involving announcements, applications and examination policies, including applicant appeal rights, can be found on the Civil Service Commission website at http://sfgov.org/civilservice/rules.
Copies of Application Documents:
Applicants are encouraged to keep copies of all documents submitted.  Submitted documents become a permanent part of the exam records and will not be returned.  The hiring department may require applicants to submit the same documents and/or additional documents at a later date.
Right to Work:
All persons entering the City and County of San Francisco workforce are required to provide verification of authorization to work in the United States.
Employee Wellness Program:
The SFMTA strives to be your employer of choice by providing an environment that supports your personal health & wellbeing with physical, nutritional, mental/emotional and financial resources. Since 2010 the SFMTA has been providing worksite wellness activities, as well as providing recognition opportunities to those individuals who successfully achieve personal milestones in wellness. For more details on the Wellness Program, please visit Employee Wellness Program Description page: https://www.sfmta.com/reports/employee-wellness-program.
Women, Minorities, and Persons with Disabilities are encouraged to apply
An Equal Opportunity Employer
Exam Type:  Combined Promotive and Entrance
Issued: July 2, 2021
Jeffrey Tumlin
Director of Transportation
San Francisco Municipal Transportation Agency
Recruitment ID Number: M00246
MTA/RK: 415.646.2372
Conviction History
As a selected candidate for a job, you will be fingerprinted, and your fingerprints will be sent to the California Department of Justice (DOJ) and the Federal Bureau of Investigation (FBI). The resulting report of your conviction history (if any) will be used to determine whether the nature of your conviction (or arrest, in limited circumstances) conflicts with the specific duties and responsibilities of the job for which you are a selected candidate. If a conflict exists, you will be asked to present any evidence of rehabilitation that may mitigate the conflict, except when federal or state regulations bar employment in specific circumstances, such as:
Candidates for positions with the Unified School District and the Community College District may be disqualified from consideration should their conviction history not meet the standards established under the California Education Code.
Candidates for positions with the Recreation and Park Department may be disqualified from consideration should their conviction history not meet the standards established under California Public Resources Code 5164.
Having a conviction history does not automatically preclude you from a job with the City.
If you are a selected candidate, the hiring department will contact you to schedule a fingerprinting appointment.
Disaster Service Workers
All City and County of San Francisco employees are designated Disaster Service Workers through state and local law (California Government Code Section 3100-3109). Employment with the City requires the affirmation of a loyalty oath to this effect. Employees are required to complete all Disaster Service Worker-related training as assigned, and to return to work as ordered in the event of an emergency.
Benefits
All employees hired on or after January 10, 2009 will be required (pursuant to San Francisco Charter Section A8.432) to contribute 2% of pre-tax compensation to fund retiree healthcare. In addition, most employees are required to make a member contribution towards retirement, ranging from 7.5%-13.25% of compensation. For more information on these provisions, please contact the personnel office of the hiring agency.
For more information about benefits, please click here.
Powered by