0923 Manager II - Enterprise Workforce Planning Manager
Recruitment #PBT-0923-096084
| | |
| --- | --- |
| Department | Public Utilities Commission |
| Analyst | Jonathan Pettey |
| Date Opened | 10/25/2019 12:30:00 PM |
| Filing Deadline | 11/25/2019 5:00:00 PM |
| Salary | $115,232.00 - $147,056.00/year |
| Job Type | Permanent PBT |
| Employment Type | Full-Time |
Introduction
ANNOUNCEMENT EXTENDED TO EXPAND CANDIDATE POOL,
CANDIDATES WHO PREVIOUSLY APPLIED NEED NOT REAPPLY

This is a Position-Based Test conducted in accordance with CSC Rule 111A.




Who are we?
San Francisco Public Utilities Commission (SFPUC)
Headquartered in San Francisco, we have 2,300 employees working in seven counties with a combined annual operating budget of over $900 million.
Our Mission:
To provide our customers with high quality, efficient, and reliable water, power, and wastewater services in a manner that values environmental and community interests and sustains the resources entrusted to our care.
Our Vision:
We are an innovative utility leader, recognized for excellent results in service, safety, stewardship, and inclusiveness.
We are an award-winning and industry-leading public utility committed to our customers, community interests, and the environment. To learn more about our organization, please visit our website at
www.sfwater.org
About Enterprise Workforce Planning
We are Enterprise Workforce Planning (EWP), a team within Human Resource Services at the SFPUC. We were founded in 2014 to address changing workforce needs and succession planning issues at the SFPUC. We strive to create a workplace with thriving, diverse, and engaged employees using innovative, behavioral science-based consulting to the SFPUC.
Our goals:
1. Implement a competency framework to align all talent management practices
2. Establish an organization-wide workforce planning process to address workforce gaps across the SFPUC
3. Increase employee engagement and build a culture of high-performance and inclusivity
4. Expand our internal consulting in the areas of talent management, organizational effectiveness, and diversity, equity, and inclusion
5. Provide business and talent insights to build a culture of data-based decision making
To learn more about working at the SFPUC, visit our career site at
www.sfwater.org/careers
Employee Amenities
• On-site childcare center and café to support workforce needs
• On-site bicycle parking, locker rooms, and electric vehicle charge station
• Close to commute/transit locations (e.g., BART, MUNI, Golden Gate Transit, parking garages)
• Proximity to numerous food and café options (e.g., Brenda's French Soul Food, Philz Coffee, Golden Era Vegan Restaurant)
POSITION DESCRIPTION
We are looking for individuals who:
• Are experienced with behavioral research concepts/principles, workforce analytics, and data-driven decision-making
• Think strategically and adeptly build relationships and support to achieve organizational goals
• Cultivate a culture of innovation, inclusiveness, and high-performance
As the Enterprise Workforce Planning Manager, you will:
Direct the strategy and activities of the Enterprise Workforce Planning (EWP) team, including development and implementation of a variety of critical workforce programs and initiatives in the areas of competency modeling, workforce planning, employee experience/engagement, workforce analytics, and other strategic talent management initiatives. The EWP Manager will partner with HRS leaders, business leaders, and other workforce development professionals across the agency to align efforts to build a sustainable workforce that meet the SFPUC's current and future needs.
Specific duties will include:
• Plans, assigns, and evaluates staff performing professional and technical work in the areas of competency modeling, workforce planning, employee experience/engagement, workforce analytics, and other strategic talent management initiatives
• Builds, develops, and retains high-performing and motivated staff to carry out the team's strategic goals and initiatives
• Coordinates the development of new workforce planning tools and processes, working with business leaders to pilot and implement across the organization
• Develops and monitors project and change management plans for long-term, strategic initiatives
• Directs the team to serve as internal consultants to HRS to improve and align processes to research, best practices, and a competency-based framework
• Collaborates with internal partners to build foundational structures, systems, and tools to establish a workforce analytics function, and ensure data-driven decisions within HRS and at the SFPUC
• Builds cross-functional relationships across the SFPUC and with other City departments to ensure success of projects
• Directs the strategy for implementation and continuous improvement of the SFPUC's competency framework
• Establishes an Engagement program at SFPUC to ensure a positive employee experience, building out the program to include areas such as diversity and inclusion, manager effectiveness, etc.
• Drives the successful implementation of new talent management technologies
• Provide research and best-practice based consultation to SFPUC Executive Team to address complex, long-term talent management/workforce planning/organizational development needs, leveraging the competency framework when appropriate
• Oversees research activities, including guiding staff in establishing new data collection methods and providing data analysis and recommendations, to support workforce analytics, competency modeling, engagement, and special projects
• Directs the development of new communication strategies to promote transparency of project work and talent management practices
• Establishes performance measures for all programs and initiatives to continually assess progress and effectiveness, as well as to adjust program direction
• Oversees and delivers effective and engaging presentations to executive and other diverse audiences
• Directs the allocation of resources to achieve timely outcomes and measurable goals within budget
• Participates in budget development by providing detailed justification and persuasive arguments for proposals or initiatives
How can you succeed in this position?

The Enterprise Workforce Planning Competency Model outlines the competencies that are needed for success in this team: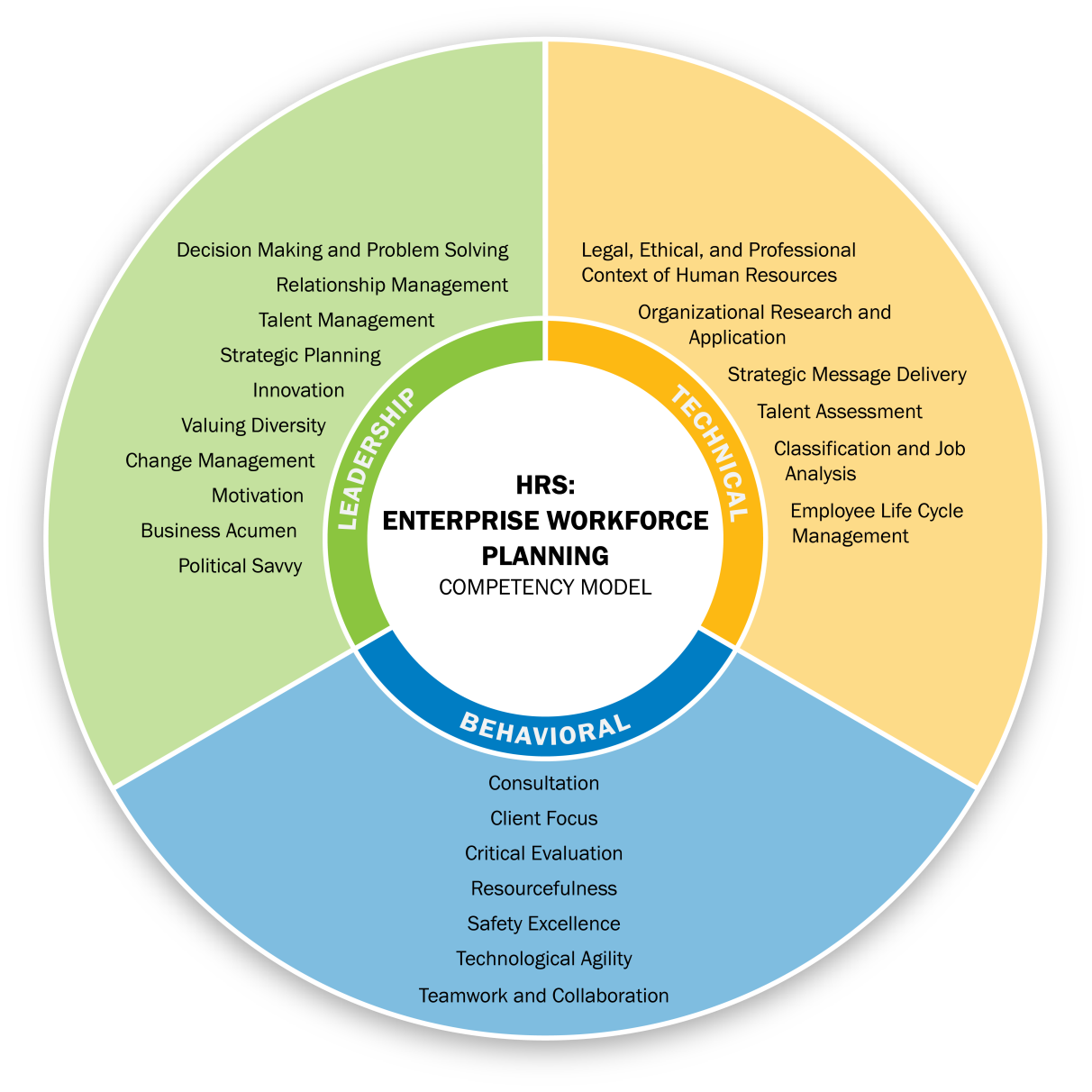 Minimum Qualifications
These minimum qualifications establish the education, training, experience, special skills and/or license(s) which are required for employment in the classification.  Please note, additional qualifications (i.e., special conditions) may apply to a particular position and will be stated on the exam/job announcement.

EDUCATION
Possession of a baccalaureate degree from an accredited college or university; AND
EXPERIENCE
Three (3) years of verifiable professional experience in the areas of competency modeling, workforce planning, employee experience/engagement, and/or workforce analytics.
SUBSTITUTION
A. Education Substitution - Additional qualifying experience may substitute for the degree requirement on a year-for-year basis for up to two (2) years, (30 semester/45 quarter units equals one year).
B. Experience Substitution - Possession of a master's degree in Personnel Administration, Human Resources Management, Business Administration, Public Administration or Clinical/School/Industrial-Organizational Psychology may substitute for one (1) year of the required professional experience.
Applicants must meet the minimum qualifications requirements by the final filing date unless otherwise noted.

DESIRABLE QUALIFICATIONS
Education: Possession of a master's degree in Industrial-Organizational Psychology, or closely related field.
Experience: Two (2) years of supervisory experience.
Verification
: Applicants may be required to submit verification of qualifying education and experience at any point during the recruitment and selection process.
Note
: Falsifying one's education, training, or work experience or attempted deception on the application may result in disqualification for this and future job opportunities with the City and County of San Francisco.
If education verification is required, information on how to verify education requirements, including verifying foreign education credits or degree equivalency, can be found at
http://sfdhr.org/index.aspx?page=456
Verification of required work experience typically must be on the employer's letterhead, and must include the applicant's name, job title, description of job duties, dates of employment, hours per week, and signature of the employer, supervisor, or appropriate representative.  Employees of the City and County of San Francisco may submit performance evaluations showing duties performed to verify qualifying City experience. City employees will receive credit for the duties of the class to which appointed. Credit for experience obtained outside of the employee's class will be allowed only if recorded in accordance with the provisions of Civil Service Commission Rules. CCSF employees will not receive credit for experience obtained outside of their classification unless recorded in accordance with the provisions of the Civil Service Rule 110.9.1/111A.11.2.
Experience claimed in self-employment will only be accepted if supported by documents verifying income, earnings, business license and experience comparable to minimum qualifications above. Copies of income tax papers or other documents listing occupation and total earnings must be submitted.   
Verification of required valid licensure/certification typically must be a photocopy of the license/certificate including the name of the issuing agency as well as the name of the license/certificate holder, license/certificate number, and expiration date.
How To Apply
Applications for City and County of San Francisco jobs are only accepted through an online process. Visit www.jobaps.com/sf to register an account (if you have not already done so) and begin the application process.
• Select the desired job announcement
• Select "Apply" and read and acknowledge the information
• Select either "I am a New User" if you have not previously registered, or "I have Registered Previously"
• Follow instructions on the screen

Need help completing the application?
Computers are available for the public from 8:00 a.m. to 5:00 p.m., Monday through Friday, to file online applications in the lobby of the Dept. of Human Resources at 1 South Van Ness Avenue, 4th Floor, San Francisco.

We communicate by email.
You may be contacted by email about this announcement and, therefore, it is your responsibility to ensure that your registered email address is accurate and kept up-to-date.  Also, you must ensure that email from CCSF is not blocked on your computer by a spam filter.  To prevent blocking, you should set up your email to accept CCSF mail from the following addresses: @sfgov.org, @sfdpw.org, @sfport.com, @flysfo.com, @sfwater.org, @sfdph.org, @asianart.org, @sfmta.com, @sfpl.org, @dcyf.org, @first5sf.org, @famsf.org, @ccsf.edu. You will receive a confirmation email that your online application has been received in response to every announcement for which you apply.  You should retain the confirmation email for your records.  Failure to receive the email means that the online application was not submitted or received.

Word of advice.
All work experience, education, training and other information substantiating how you meet the minimum qualifications must be included on your application by the filing deadline.  Information submitted after the filing deadline will not be considered in determining whether you meet the minimum qualifications. Applications completed improperly may be cause for ineligibility, disqualification or may lead to lower scores.

Have questions about the application process?
If you have any questions regarding this recruitment or application process, please contact the exam analyst, Jonathan Pettey, by telephone at 415-554-1636, or by email at jobs@sfwater.org.
Selection Procedures
QUALIFYING QUESTIONNAIRE (MQSQ)
Applicants will be prompted to complete a Qualifying Questionnaire (MQSQ) as part of the online application process. All applicants must complete the MQSQ and it must be submitted with the application by the final filing deadline. The information provided on the Supplemental Questionnaire must be consistent with the information on the application and is subject to verification. Applicant responses to the Supplemental Questionnaire will be used to assist in determining if applicants meet the minimum qualifications for the position.
SUPERVISORY TEST BATTERY EXAM: (WEIGHT: 50%)
Candidates will be invited to participate in a computer-based examination designed to measure competencies in job-related areas which may include but not be limited to: Problem Solving; Leadership; Decision Making; Interpersonal skill; Human Resources Management; Team Building; Communication & Conflict Management. For more information about this Supervisory Test (and a suggested reading list) please visit:
http://www.sfdhr.org/index.aspx?page=325
A passing score must be achieved on the Supervisory Test Battery in order to continue in the selection process.
This is a standardized examination, and, therefore, test questions and answers are not available for public inspection or review.
Scores attained on the Supervisory Test Battery will be valid and 'banked' for three years, starting from the date of the examination. This means that, during this three-year time period, you will not be required to take the Supervisory Test Battery. The Supervisory Test Battery may be used for many other classes; therefore your test score may be applied to one or more of these classes if you choose to apply to future recruitments. If the selection process for the future announcement is held within one year of the date of this examination and it includes the Supervisory Test Battery, your score will be automatically applied to that announcement, However, after one year, you have the option to either (a) apply your test score to the other announcement or (b) re-take the Supervisory Test Battery. Re-testing is permitted no sooner than one year from the date of the examination and only in association with your eligibility for another announcement for which the Supervisory Test Battery is used. Please note that, should you re-test, your re-test score would become your official score since it is the most recent.
SUPPLEMENTAL QUESTIONNAIRE EXAM (WEIGHT: 50%)
Qualifying applicants must complete the supplemental questionnaire. The purpose of the Supplemental Questionnaire is to evaluate the experience, knowledge, skills and abilities that candidates possess in job-related areas, which have been identified as critical for this position and include, but are not limited to: Knowledge of: current applied organizational and behavioral sciences theories, best practices, and ethical obligations related to human behavior research; theory and research in human behavior, criterion development, and measurement pertaining to employment testing and selection, performance management, and employee development (performance assessment); structured approach and people-oriented strategies used to drive the adoption and usage of new solutions to fully realize organizational benefits and project objectives (change management); business concepts, terms, and tools used to make informed financial and operational decisions (business acumen); relationships, histories, and networks among employees and their impact upon organization, building consensus, and accomplishing goals (political savvy); Ability to build open, honest, and respectful relationships through effective communication and collaboration techniques (relationship management); build and develop a highly-skilled workforce based on organizational goals, budget considerations, and staffing needs (performance management); formulate objectives and priorities, implement plans, and allocate resources to achieve the long-term goals of an organization (strategic planning); take ownership of problems and make timely, responsible, transparent, and clear decisions (decision making and problem solving); approach work in a systematic manner, using critical thinking, auditing, and knowledge management methods. 
A passing score must be achieved in all test components listed above in order to be placed on the Eligible List.
Candidates will be placed on the eligible list in rank order according to their final score. Candidate scores on this examination may also be applied to other announcements involving other job titles, when directed by the Human Resources Director.
The department may administer additional position-specific selection procedures to make final hiring decisions. Candidates scores on this examination may also be applied to other announcements involving other job titles, when directed by the Human Resources Director.
CERTIFICATION RULE
The certification rule for the ranked eligible lists resulting from this examination will be Rule of The List (ROL) Scores. The department may administer additional position-specific selection procedures to make final hiring decisions.
ELIGIBLE LIST
A confidential eligible list of applicant names that have passed the civil service examination process will be created, and used for certification purposes only. An examination score report will be established, so applicants can view the ranks, final scores and number of eligible candidates. Applicant information, including names of applicants on the eligible list, shall not be made public unless required by law. However, an eligible list shall be made available for public inspection, upon request, once the eligible list is exhausted or expired and referrals resolved. The eligible list/score report resulting from this civil service examination process is subject to change after adoption (e.g., as a result of appeals), as directed by the Human Resources Director or the Civil Service Commission. 
The duration of the eligible list resulting from this examination process will be 6 months, and may be extended with the approval of the Human Resources Director. 
Upon approval of the Human Resource Director (see Civil Service Rule 111A.26.5), the eligible list/score report resulting from this announcement may be used by other departments that also use this classification or a similar classification. To find other Departments which use this classification, please see
https://sfdhr.org/sites/default/files/documents/ASO-Level-Chart.pdf?documentID=21246
Conviction History
As a selected candidate for a job, you will be fingerprinted, and your fingerprints will be sent to the California Department of Justice (DOJ) and the Federal Bureau of Investigation (FBI). The resulting report of your conviction history (if any) will be used to determine whether the nature of your conviction (or arrest, in limited circumstances) conflicts with the specific duties and responsibilities of the job for which you are a selected candidate. If a conflict exists, you will be asked to present any evidence of rehabilitation that may mitigate the conflict, except when federal or state regulations bar employment in specific circumstances, such as:
Candidates for positions with the Unified School District and the Community College District may be disqualified from consideration should their conviction history not meet the standards established under the California Education Code.
Candidates for positions with the Recreation and Park Department may be disqualified from consideration should their conviction history not meet the standards established under California Public Resources Code 5164.
Having a conviction history does not automatically preclude you from a job with the City.
If you are a selected candidate, the hiring department will contact you to schedule a fingerprinting appointment.
Disaster Service Workers
All City and County of San Francisco employees are designated Disaster Service Workers through state and local law (California Government Code Section 3100-3109). Employment with the City requires the affirmation of a loyalty oath to this effect. Employees are required to complete all Disaster Service Worker-related training as assigned, and to return to work as ordered in the event of an emergency.
Conclusion
TERMS OF ANNOUNCEMENT
Applicants must be guided solely by the provisions of this announcement including requirements, time periods, and other particulars, except when superseded by federal, state, or local laws, rules, or regulations. Clerical errors may be corrected by posting the correction on the Department of Human Resources website at
www.jobaps.com/sf
The terms of this announcement may be appealed under Civil Service Rule 111A.35.1. The standard for the review of such appeals is 'abuse of discretion' or 'no rational basis' for establishing the position description, the minimum qualifications and/or the certification rule. Appeals must include a written statement of the item(s) being contested and the specific reason(s) why the cited item(s) constitute(s) abuse of discretion by the Human Resources Director. Appeals must be submitted directly to the Executive Officer of the Civil Service Commission within five business days of the announcement issuance date.
REQUESTS
Applicants with disabilities who meet the minimum eligibility requirements for this job announcement can find information on requesting a reasonable ADA Accommodation at:
http://www.sfdhr.org/index.aspx?page=20#applicantswithdisabilities
Veteran's Preference documentation must be submitted at the time of filing to be considered. Information regarding requests for Veterans Preference can be found at:
http://www.sfdhr.org/index.aspx?page=20#veteranspreference
Seniority Credit in Promotional Exams: Information regarding seniority credit can be found at:

http://www.sfdhr.org/index.aspx?page=20#senioritycredit
NOTES
General Information concerning City and County of San Francisco Employment Policies and Procedures:
http://www.sfdhr.org/index.aspx?page=20
Terms of Announcement:
http://www.sfdhr.org/index.aspx?page=20#announcementsdefinitions
Copies of Application Documents:
http://www.sfdhr.org/index.aspx?page=20#copies
Right to Work:
http://www.sfdhr.org/index.aspx?page=20#identification
Driver's License requirement:
http://www.sfdhr.org/index.aspx?page=20#license
THE CITY AND COUNTY OF SAN FRANCISCO IS AN EQUAL OPPORTUNITY EMPLOYER. MINORITIES, WOMEN AND PERSONS WITH DISABILITIES ARE ENCOURAGED TO APPLY.
Announcement extended 11/07/2019
Combined Promotive/Entrance - 0923
Issued: 10/25/2019
Recruitment No.: PBT-0923-096084
Micki Callahan, Director
Department of Human Resources
Team: PUC/JP 415.554.1636
(#01110990)
Benefits
All employees hired on or after January 10, 2009 will be required (pursuant to San Francisco Charter Section A8.432) to contribute 2% of pre-tax compensation to fund retiree healthcare. In addition, most employees are required to make a member contribution towards retirement, ranging from 7.5%-13.25% of compensation. For more information on these provisions, please contact the personnel office of the hiring agency.
For more information about benefits, please click here.
Powered by