1053 Technical Lead - HR Modernization Project
Recruitment #PEX-1053-904289
| | |
| --- | --- |
| Department | Human Resources |
| Analyst | Gary Chen |
| Date Opened | 11/2/2020 08:00:00 AM |
| Filing Deadline | 12/24/2020 12:00:00 PM |
| Salary | $104,286.00 - $131,196.00/year |
| Job Type | Permanent Exempt |
Introduction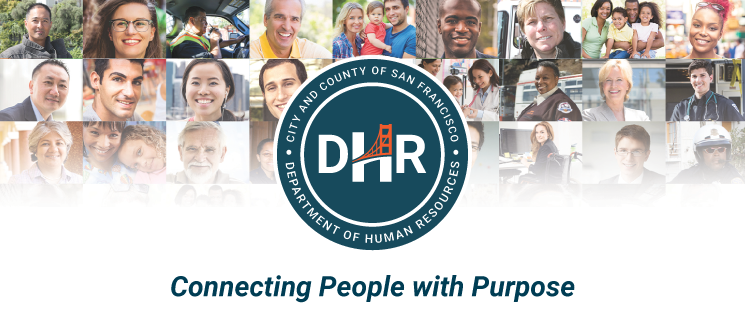 In line with the Official Public Health Order to slow the spread of COVID-19, "shelter-in-place" has been issued for all San Francisco residents that is expected to be in effect until further notice. As a result, Department of Human Resources (DHR)'s office (located at 1 South Van Ness Avenue, 4th Floor, San Francisco, CA 94103) is currently closed to the general public. If you have any questions, please feel free to email the Human Resources Analyst listed on this announcement.

Company Description
San Francisco is the fourth largest city in California with more than 865,000 residents and a daytime population that swells to more than 1.2 million. It is one of the most ethnically diverse major cities in the United States, and is also home to the third largest concentration of members of the LGBTQ community among the 50 largest U.S. cities.
The Department of Human Resources (DHR) is responsible for the administration of the merit system and human resources program for the City and County of San Francisco, including recruitment and selection, classification and compensation, EEO complaint investigations, workforce development, human resources information systems, employee/labor relations, workers' compensation, occupational health and safety programs, diversity, equity, and inclusion initiatives, and other related programs.
The Human Resources Modernization Project (formerly known as the Hiring Modernization Project) is a City-wide initiative led by DHR to research, identify, procure, and implement intuitive, user-friendly tools and processes to improve the City's human resources practices and procedures. This project's current phase involves implementing a new SaaS-based applicant tracking system and building a custom application to handle the unique parts of the government hiring process. Read more about our DHR Human Resources Modernization project at: https://sfdhr.org/evolution
Job Description
Building an infrastructure that allows the City and County of San Francisco to process ~150,000 job applications and to hire thousands of workers every year across 1000+ different types of jobs.
Under supervision, the 1053 Technical Lead assists the Human Resources Modernization Team with identifying, procuring, and implementing intuitive, user-friendly tools and processes through agile product development and DevOps (Development and Operations) best practices.
Duties of this position include but are not limited to:
Serve on a team with internal colleagues and vendors to maintain and improve the applicant tracking system solution, as well as build new user-focused digital services for HR modernization
Participate in prototyping, feature prioritization, scrum meetings, and code review, and help lead architecture discussions
Help lead decisions about our development and deployment environments
Practice and enthusiastically share Agile methodologies throughout all stages of the project lifecycle
Take pride of ownership in all projects you touch and leave code better than you found it. Contribute to documentation, tests, style fixes, accessibility, performance, security, etc.
Assist in defining technical system and integration requirements in future procurement phases of the project
Overseeing the migration of legacy data between platforms including determining the structure of databases, normalizing data, and/or performing the conversion of data between platforms
Determining security levels for systems to ensure data integrity
Deliver projects that are easy to deploy, update, and monitor by ensuring the tooling for this is present early in the project development cycle
Build web applications that are mobile-first and accessible from the start
Maintain a production system
Minimum Qualifications
These minimum qualifications establish the education, training, experience, special skills and/or license(s) which are required for employment in the classification. Please note, additional qualifications (i.e., special conditions) may apply to a particular position and will be stated on the exam/job announcement.
Education:
An associate degree in computer science or a closely related field from an accredited college or university OR its equivalent in terms of total course credits/units [i.e., at least sixty (60) semester or ninety (90) quarter credits/units with a minimum of twenty (20) semester or thirty (30) quarter credits/units in computer science or a closely-related field].
Experience:
Three (3) years in the information systems field, including system analysis, business process design, development and implementation of business application solutions or IT project management.

Substitution:
Additional experience as described above may be substituted for the required degree on a year-for-year basis (up to a maximum of two (2) years). One (1) year is equivalent to thirty (30) semester units / forty-five (45) quarter units with a minimum of 10 semester / 15 quarter units in computer science or a closely related field.
Desirable qualifications:
Prior experience helping large organizations (especially public sector) migrate from legacy systems to more modern cloud-based modular solutions
Prior experience with deploying and maintaining custom software solutions adopting modern software development practices such as source control, continuous integration/continuous deployment, and automated testing
Prior experience creating or extending REST APIs
Demonstrated experience writing clear, well-tested code using unit and end-to-end testing frameworks
Experience with development for mobile browsers, including understanding of the use of responsive web design and responsive front-end development
Commitment to building services for all San Franciscans, including familiarity with usability, accessibility, and internationalization
Familiarity with Agile development methodology and experience working in iterative development cycles
Ability to work well on a team that embraces user-centered design with a focus on both user and stakeholder needs. Ability to collaborate with designers to rapidly prototype ideas
Ability to communicate technical concepts to a non-technical audience
How To Apply
Click Here to Apply for the 1053 Technical Lead - HR Modernization Project
If you have any questions regarding this recruitment or application process,
please contact the exam analyst at Gary.w.chen@sfgov.org.
Applicants may be contacted by email about this announcement and, therefore, it is their responsibility to ensure that their registered email address is accurate and kept up-to-date. Also, applicants must ensure that email from CCSF is not blocked on their computer by a spam filter. To prevent blocking, applicants should set up their email to accept CCSF mail from the following addresses (@sfgov.org, @sfdpw.org, @sfport.com, @flysfo.com, @sfwater.org, @sfdph.org, @asianart.org, @sfmta.com, @sfpl.org, @dcyf.org, @first5sf.org, @famsf.org, @ccsf.edu).
Applicants will receive a confirmation email that their online application has been received in response to every announcement for which they file. Applicants should retain this confirmation email for their records. Failure to receive this email means that the online application was not submitted or received.
All work experience, education, training and other information substantiating how you meet the minimum qualifications must be included on your application by the filing deadline. Information submitted after the filing deadline will not be considered in determining whether you meet the minimum qualifications.
Applications completed improperly may be cause for ineligibility, disqualification or may lead to lower scores.
Conviction History
As a selected candidate for a job, you will be fingerprinted, and your fingerprints will be sent to the California Department of Justice (DOJ) and the Federal Bureau of Investigation (FBI). The resulting report of your conviction history (if any) will be used to determine whether the nature of your conviction (or arrest, in limited circumstances) conflicts with the specific duties and responsibilities of the job for which you are a selected candidate. If a conflict exists, you will be asked to present any evidence of rehabilitation that may mitigate the conflict, except when federal or state regulations bar employment in specific circumstances, such as:
Candidates for positions with the Unified School District and the Community College District may be disqualified from consideration should their conviction history not meet the standards established under the California Education Code.
Candidates for positions with the Recreation and Park Department may be disqualified from consideration should their conviction history not meet the standards established under California Public Resources Code 5164.
Having a conviction history does not automatically preclude you from a job with the City.
If you are a selected candidate, the hiring department will contact you to schedule a fingerprinting appointment.
Disaster Service Workers
All City and County of San Francisco employees are designated Disaster Service Workers through state and local law (California Government Code Section 3100-3109). Employment with the City requires the affirmation of a loyalty oath to this effect. Employees are required to complete all Disaster Service Worker-related training as assigned, and to return to work as ordered in the event of an emergency.
Conclusion
General Employment Information:

Important Employment Information for the City and County of San Francisco can be obtained at https://sfdhr.org/information-about-hiring-process
Terms of Announcement:

Applicants must be guided solely by the provisions of this announcement, including requirements, time periods and other particulars, except when superseded by federal, state or local laws, rules or regulations. Clerical errors may be corrected by the posting the correction on the Department of Human Resources website at www.jobaps.com/sf.
Reasonable Accommodation Requests:
Copies of Applications Documents:
Applicants are encouraged to keep copies of all documents submitted. Submitted documents become a permanent part of the exam records and will not be returned.
Right to Work:

All persons entering the City and County of San Francisco workforce are required to provide verification of authorization to work in the United States.
Appointment Type: Permanent Exempt (PEX)
Issued: November 2, 2020
Carol Isen
Acting Human Resources Director
Department of Human Resources
Recruitment ID Number: PEX-1053-904289
DHR / GWC / gary.w.chen@sfgov.org
Benefits
All employees hired on or after January 10, 2009 will be required (pursuant to San Francisco Charter Section A8.432) to contribute 2% of pre-tax compensation to fund retiree healthcare. In addition, most employees are required to make a member contribution towards retirement, ranging from 7.5%-13.25% of compensation. For more information on these provisions, please contact the personnel office of the hiring agency.
For more information about benefits, please click here.
Powered by