5283 Planner V (Data Analytics and Strategy Manager)
Recruitment #PEX-5283-082703
| | |
| --- | --- |
| Department | Municipal Transportation Agency |
| Analyst | Tracy Pon |
| Date Opened | 12/22/2017 10:00:00 AM |
| Filing Deadline | 1/8/2018 5:00:00 PM |
| Salary | $134,030.00 - $162,890.00/year |
| Job Type | Permanent Exempt |
| Employment Type | Full-Time |
Introduction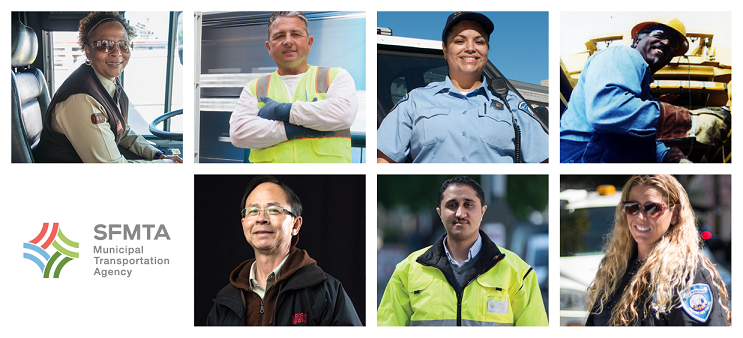 The following information describes the civil service classification for which applications are being solicited.
Make sure you read the entire announcement before completing the application form.
Division: Sustainable Streets
Section/Unit: Chief of Staff Office
Work Location: One South Van Ness Ave, San Francisco, CA

POSITION DESCRIPTION:
Recent advances in the type and amount of transportation data available are rapidly reshaping the delivery of transportation services and the development of transportation policies and projects. The San Francisco Municipal Transportation Agency (SFMTA) wants to leverage existing and emerging transportation datasets to achieve SFMTA's strategic goals (Vision Zero, Transit First, environmental quality, and customer service experience) and to:
1. Evaluate Projects (e.g., before and after studies);
2. Understand Trends (e.g, origin/destination; time of day patterns, route choice);
3. Manage the system in real-time (e.g., deployment/reassignment of resources through the Transportation Management Center);
4. Identify issues and solutions (e.g., identifying and mapping traffic and transit congestion, producing a curb inventory, etc.); and
5. Provide better travel information and customer service.
The Sustainable Streets Division (SSD) is seeking a Data Analytics and Strategy Manager to assist with developing its analytics and data management strategy. This position will report to the SSD Chief of Staff and will be directly supported by 0.5 FTE at a Planner II level as well as indirectly supported by other SFMTA staff from the Information Technology, Planning and Transportation Engineering teams. Furthermore, consultant resources may be available to assist with data analytics. The Manager would be expected to frequently interact with SSD Senior Managers and the SFMTA Executive Team.

In conjunction with and as part of SFMTA's data governance, management and performance measurements, the Manager will be responsible for developing and overseeing the following aspects of transportation data management within SSD:

1. Transportation Data Suite: The Manager will be responsible for crafting and stewarding a select suite of legible, reproducible, trustworthy, and useful data products in response to the ongoing internal needs analysis. While the SFMTA already has a substantial amount of data, the Manager will undertake a needs analysis that may point to the need to acquire new data from either public or private data sources. The suite should support users across a variety of data and computational literacy levels ranging from raw data to a re-imagined version of the Agency's Transportation Fact Sheet that presents San Francisco's mobility trends over time. The Manager may also leverage existing tools in use at the SFMTA such as Tableau and could recommend the addition of select others, in consultation with SFMTA IT.

2. Data Policies and Governance: Consistent with existing SFMTA policies and in close collaboration with IT and other business units, the Manager will be responsible for implementing applicable rules and best practices regarding appropriate use, standards and privacy for the data products suite. With the understanding that many emerging data sources are collected and maintained in partnership with the private sector, the Manager shall research and craft partnership arrangements that will ultimately benefit the travelling public.

3. Innovation and Research: The Manager shall develop, maintain and shepherd a Data Innovation and Research strategy which will include (A) opportunities for developing data products that respond to user needs which are identified, tracked, and explored in a systematic way; (B) research topics that progress innovative data collection, analysis, or governance; and (C) partnerships with universities, private sectors, and similar communities at other public agencies within and outside the region. Additionally, the Manager will be responsible for developing methods and procedures for collecting, organizing and analyzing data and interpreting results for use in decision-making.

4. Data Insights Support: The Manager will be responsible for providing data insights for a range of projects and questions: long-term and tight turn-around, best guesses and in-depth due diligence, policy and operational, rich visualizations and numbers to fill-in-the blanks, ad-hoc requests and ongoing programs. The Manager will perform on-demand, large-scale, exploratory and targeted data research and analysis with integration and analysis tools of large datasets and applied statistical analysis and modeling for transportation applications. The Manager will use leading-edge data analytic techniques to analyze large data sets with innovative and analytically-sound deliverables. The Manager will develop prototypes, proofs of concepts, algorithms, predictive models, data mining and discovery and custom analysis that leverage the value of existing data sets. The Manager shall be just as capable of helping SFMTA staff craft good questions as they are at ascertaining the answers.

Nature of Work: May be required to work nights and weekends on rare occasion.

MINIMUM QUALIFICATIONS:
1. Possession of a baccalaureate degree from an accredited college or university; AND

2. Eight (8) years of experience in urban, city, regional, and/or related planning environment such as (transportation planning, environmental planning, architecture or urban design).

3. Possession of a valid driver license.

Substitution:
Possession of Master's degree from an accredited college or university in City, Regional or Urban Planning, Architecture, Landscape Architecture, Geography, Urban Studies or Environmental Sciences may substitute for one (1) year of the required work experience.

Desirable Qualifications:
• Degree in data science, computer science, engineering, geography, statistics, economics, econometrics, or other STEM field (Science, Technology, Engineering, or Math).
• At least three years of experience managing and analyzing data to support client needs.
• Demonstrated technical understanding of data management and supporting software or cloud services.
• Some knowledge and understanding of several data-intensive programming languages and statistical software packages (e.g., R, Python, Java, Perl, Mathematica, MATLAB, SAS, SPSS, Arc-GIS, Weka).
• Highly proficient at performing large-scale data analysis, including experience leveraging integration and analysis tools against large datasets.
• Demonstrated technical prowess in data wrangling and ETL procedures and/or data pipelines (e.g., SQL, Python, R, Power BI, etc.).
• Dexterity in modern data visualization and communications techniques and tools (Tableau, Olik, Power BI, D3, etc.).
• Demonstrated leadership in employing data management practices to leverage data which supports decision-making, preferably in managing a transportation program or other public sector applications.
• Strong background and knowledge of statistics, modeling for transportation applications, and research methods.
• Able to work collaboratively with the SFMTA IT Team as well as other sections within the Agency and other City Departments.
• Capable of seeing the big picture while understanding minute technical details.
• Experience supervising staff either directly or as part of a project team.
• Experience working with open data standards and governance.
• Experience working with private data sources and privacy.
• Experience with transportation research methods, such as travel demand modeling, traffic simulation, or GIS/spatial analysis.
• Considerable experience performing on demand and exploratory data analyses.
• Considerable experience using cutting-edge data analytic techniques to analyze large data sets with innovative and analytically-sound deliverables.
• Considerable experience using floating traveler data and GPS data to study travel behavior.


HOW TO APPLY:
City and County of San Francisco employment applications for this position will be accepted through an on-line process only. A resume and cover letter must be attached to the online application. Mailed, hand delivered or faxed applications will not be accepted. Visit www.jobaps.com/sf to begin the application process.


• Click and select 5283 Planner V, Data Analytics and Strategy Manager (PEX-5283-082703)
• Click on "Apply" and read and acknowledge the information
• Click on "I am a New User" if you have not previously registered, or on "I have REGISTERED PREVIOUSLY"
• Follow instructions given on the screen.

To submit resume using the online application:
• Select the "Resume" tab in the online application
• Follow instructions given on screen.

To submit cover letter using the online application:
• Select the "Other" tab in the online application
• Choose "Upload" as your method of submittal
• Click on "Upload Attachment"
• Follow instructions given on screen.

If you are having trouble attaching your resume and cover letter to the online application, you may submit by fax to (415) 581-5120, ATTN: 5283 Planner V, Data Analytics and Strategy Manager (PEX-5283-082703). Résumé will not be accepted in lieu of completing the online application.

Computer kiosks are available for the public from 8:00 a.m. to 5:00 p.m. Monday through Friday to file online applications in the lobby of the Department of Human Resources, 1 South Van Ness Avenue, 4th Floor, San Francisco and in the lobby of SFMTA Human Resources office, 1 South Van Ness Avenue, 6th Floor, San Francisco.

Applicants may be contacted by e-mail. It is their responsibility to ensure that their registered e-mail address is accurate and kept up-to-date. Also, applicants must ensure that email from CCSF is not blocked on their computer by a spam filter. To prevent blocking, applicants should set up their email to accept CCSF mail from the following addresses: (@sfgov.org, @sfdpw.org, @sfport.com, @flysfo.com, @sfwater.org, @sfdph.org, @asianart.org, @sfmta.com, @sfpl.org).

Upon successful submittal of the application online, the applicant will receive a notification on the screen, as well as in the applicant's e-mail inbox, acknowledging the receipt of the application by the SFMTA – HR Operations Section. If you are having difficulty submitting your application online, please contact us at (415) 701-4554 between 8:30 a.m. – 12:00 p.m. and 1:00 p.m. - 4:30 p.m. Monday through Friday or by e-mail at Tracy.Pon2@sfmta.com.

If you have any questions regarding this recruitment or application process, please contact the analyst, Tracy Pon, by telephone at (415) 701-4554 or by email at Tracy.Pon2@sfmta.com.

VERIFICATION:
Applicants may be required to submit verification of qualifying experience, training, and driver license at any point in the application, examination and/or departmental selection process. Written verification (proof) of qualifying experience must verify that the applicant meets the minimum qualifications stated on the examination announcement. Written verification must be submitted on employer's official letterhead, specifying dates of employment, types of employment (part-time/full-time), job title(s), description of duties performed, and the verification must be signed by the employer. City employees will receive credit for the duties of the class to which they are appointed. Credit for experience obtained outside of the employee's class will be allowed only if recorded in accordance with the provisions of the Civil Service Commission Rules. Experience claimed in self-employment must be supported by documents verifying income, earnings, business license and experience comparable to the minimum qualifications of the position. Copies of income tax papers or other documents listing occupations and total earnings must be submitted. If education verification is required, information on how to verify education requirements, including verifying foreign education credits or degree equivalency, can be found at http://sfdhr.org/index.aspx?page=456.

Note: Falsifying one's education, training, or work experience or attempted deception on the application may result in disqualification for this and future job opportunities with the City and County of San Francisco.

SELECTION PROCEDURE:
Applications will be screened for relevant qualifying experience. Additional screening mechanisms may be implemented in order to determine candidates' qualifications. Only those applicants who most closely meet the needs of the Agency will be invited to participate in the selection process. Applicants meeting the minimum qualifications are not guaranteed advancement to the interview.

Qualified applicants with disabilities requiring reasonable accommodation in the selection process must contact the Agency by phone at (415) 701-4554 or, if hearing impaired at (415) 701-5043 (TTY) or in writing to the SFMTA Human Resources, HR Operations Section, 1 South Van Ness Avenue, 6th Floor, San Francisco, CA 94103 (specify Class 5283).

NOTES:
Make sure your application and any attachments to the application submitted at the time of filing are complete and accurate and include details on all experience, education, training and other information that qualifies you for this recruitment. Failure to submit a complete and accurate application at the time of filing may result in your ineligibility for this recruitment or inability to receive full credit for scoring purposes. Any new information concerning work experience, education, training and other information that is submitted after the filing deadline may not be used for scoring or considered to determine whether you meet the minimum qualifications.

Copies of Application Documents:
Applicants are encouraged to keep copies of all documents submitted.

Right to Work:
All persons entering the City and County of San Francisco workforce are required to provide verification of authorization to work in the United States.
MINORITIES, WOMEN AND PERSONS WITH DISABILITIES ARE ENCOURAGED TO APPLY
AN EQUAL OPPORTUNITY EMPLOYER

Conviction History
As a finalist for a job, you will be fingerprinted, and your fingerprints will be sent to the California Department of Justice (DOJ) and the Federal Bureau of Investigation (FBI). The resulting report of your conviction history (if any) will be used to determine whether the nature of your conviction (or arrest, in limited circumstances) conflicts with the specific duties and responsibilities of the job for which you are a finalist. If a conflict exists, you will be asked to present any evidence of rehabilitation that may mitigate the conflict, except when federal or state regulations bar employment in specific circumstances, such as:
Candidates applying for positions with the Unified School District and the Community College District may be disqualified from consideration should their conviction history not meet the standards established under the California Education Code.
Candidates applying for positions with the Recreation and Park Department may be disqualified from consideration should their conviction history not meet the standards established under California Public Resources Code 5164.
Having a conviction history does not automatically preclude you from a job with the City.
If you are selected as a finalist, the hiring department will contact you to schedule a fingerprinting appointment.
Disaster Service Workers
All City and County of San Francisco employees are designated Disaster Service Workers through state and local law (California Government Code Section 3100-3109). Employment with the City requires the affirmation of a loyalty oath to this effect. Employees are required to complete all Disaster Service Worker-related training as assigned, and to return to work as ordered in the event of an emergency.
Benefits
All employees hired on or after January 10, 2009 will be required (pursuant to San Francisco Charter Section A8.432) to contribute 2% of pre-tax compensation to fund retiree healthcare. In addition, most employees are required to make a member contribution towards retirement, ranging from 7.5%-13.25% of compensation. For more information on these provisions, please contact the personnel office of the hiring agency.
For more information about benefits, please click here.
Powered by