9180 - Employee & Labor Relations Manager
Recruitment #PEX-9180-075779
| | |
| --- | --- |
| Specialty | Manager VI, MTA |
| Department | Municipal Transportation Agency |
| Analyst | Tina Pruett |
| Date Opened | 4/7/2017 08:00:00 AM |
| Filing Deadline | 7/12/2017 5:00:00 PM |
| Salary | $139,620.00 - $178,230.00/year |
| Job Type | Permanent Exempt |
| Employment Type | Full-Time |
Introduction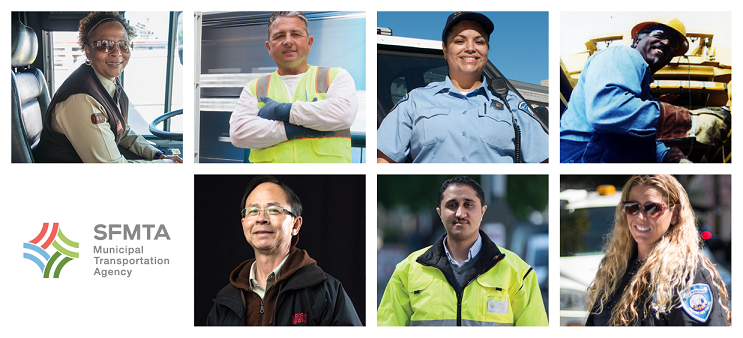 Why manage and lead the SFMTA Employee and Labor Relations Team?
The SFMTA recognizes that our employees are our greatest asset, and in order to achieve our strategic goal of creating an outstanding workplace, we need to have an effective manager who will lead our Human Resources' Employee and Labor Relations team and develop a continuing constructive relationship with our labor partners.
The Employee and Labor Relations Manager will report to the Director of Human Resources and will be responsible for managing, coordinating and supervising staff performing employee and labor relations activities for the San Francisco Municipal Transportation Agency (SFMTA).
This position develops and facilitates agency-wide development of constructive relationships with labor partners, advises directors and managers on interpretation of Memorandum of Understandings (MOU), disciplinary actions, grievances, current labor relations trends and issues, in addition to participating in various joint labor/management committees. This position also serves the lead negotiator for SFMTA for traditional and interest bargaining negotiations.
We're looking for someone who is:
An effective relationship builder who develops and establishes rapport and maintains mutually productive relationships and relates well to people from varied backgrounds and in different situations.

A resilient leader who is a capable decision maker who identifies and understands issues, problems, and opportunities while adjusting effectively in changing priorities, work processes, responsibilities, and environment.

An organized overachiever who thrives in working in a fast-paced environment with competing requirements and deadlines.

An expert in current labor relations trends and issues .

A professional and ethical leader who maintains and promotes individual and organizational integrity, accountability, effectiveness, and high standards the conduct of all activities.
What you will be responsible for:
Planning, directing, coordinating and evaluating employee and labor relations functions. You will be responsible for overseeing negotiations, grievance processes, investigations of employee complaints and concerns, disciplinary hearings and procedures, the ADA/Reasonable Accommodation Program, and performance management.
Exercising direct supervision over assigned professional and administrative staff.
Advising managers and supervisors on labor relations issues, union MOU/CBA interpretation, disciplinary actions, grievances, employee coaching, counseling, performance monitoring and evaluation, employment laws, and City and County of San Francisco (CCSF) and SFMTA policies.
Developing and facilitating agency-wide development of positive and constructive relationships with leadership of labor unions in the spirit of partnership towards creating an outstanding workplace and advancing the mission of the agency through engaging employees and the unions that represent them. You will participate in various joint labor/management committees to achieve these ends.
Chairing multiple joint labor/management committees.
Partnering with CCSF on labor negotiations and the development and implementation of labor agreements that effect SFMTA.  You will serve as the lead negotiator for SFMTA's eighteen (18) bargaining units.
Providing training to managers on labor issues and trends, including administration and facilitation of disciplinary and grievance processes.
Developing and implementing labor-related policies, practices and controls.  
Assisting the HR Director and Organizational Development Manager to develop, implement, facilitate, and support on-going training related to employee relations, leadership, coaching and workforce planning, as well as compliance with federal, state, and local laws; and CCSF and SFMTA policies, procedures, rules, and regulations.
A few reasons you might love this job:
You will work in a highly visible role within the agency.

Your work will have a direct impact on one most important relationships for the Agency.

You will be challenged daily.

You will work with people who are passionate about their work and recognized experts in their fields.

You will be working for an iconic agency, a leader in public transit.

Competencies Required:
Legal & Regulatory Navigation - Understanding, interpreting, and ensuring compliance with laws and regulations.

Professional Integrity & Ethics - Displaying honesty, adherence to principles, and personal accountability.

Negotiating - Reaching mutually satisfying agreements and compromise.

Leading Cross-Divisional Collaboration - Demonstrating cooperation and teamwork while working within and across divisions and teams.

Coaching & Developing Others - Supporting others in stretching and expanding their capabilities.

Displaying Ownership and Accountability - Holding self and others accountable for measurable high-quality, timely, and cost-effective results.

Building and Maintaining Relationships - Establishing rapport and maintaining mutually productive relationships.

Decision Making – Choosing optimal courses of action in a timely manner.
Minimum Qualifications
Possession of a Bachelor's degree from an accredited college or university with major course work in labor relations, human resources personnel, public or business administration, or closely related field. AND


Six (6) years of professional human resources experience in employee and labor relations or related processes. This experience must include three (3) years supervising professionals, and performing duties at a level equivalent to those performed by a Senior Analyst dealing with employee and labor negotiations in the City and County of San Francisco.
Desirable Qualifications:
Master's degree in Human Resources Management, Industrial/Organizational Psychology, Public Administration or Business Administration or a closely related field; or a Juris Doctorate.

Experience with employee and/or labor relations in a public sector including primary responsibility for labor negotiation and grievance arbitration.

Experience developing labor management partnerships and employee engagement.

Strong oral, written and presentation skills.

Extensive negotiation experience.

Experience working with management staff at all levels within an organization.

Experience managing ADA/reasonable accommodations program at a large organization.

PHR/SPHR
How To Apply
Applications for City and County of San Francisco jobs are being accepted through an online process. Visit www.jobaps.com/sf to register an account (if you have not already done so) and begin the application process.
Select the desired job announcement

Select "Apply" and read and acknowledge the information

Select either "I am a New User" if you have not previously registered, or "I have Registered Previously"

Follow instructions on the screen
Computers are available for the public (from 8:00 a.m. to 5:00 p.m. Monday through Friday) to file online applications in the lobby of the Dept. of Human Resources at 1 South Van Ness Avenue, 4th Floor, San Francisco, and the SFMTA Human Resources Department at 1 S. Van Ness Ave, 6th Floor, San Francisco.

Applicants may be contacted by email about this announcement and, therefore, it is their responsibility to ensure that their registered email address is accurate and kept up-to-date. Also, applicants must ensure that email from CCSF is not blocked on their computer by a spam filter. To prevent blocking, applicants should set up their email to accept CCSF mail from the following addresses (@sfgov.org, @sfdpw.org, @sfport.com, @flysfo.com, @sfwater.org, @sfdph.org, @asianart.org, @sfmta.com).

Applicants will receive a confirmation email that their online application has been received in response to every announcement for which they file. Applicants should retain this confirmation email for their records. Failure to receive this email means that the online application was not submitted or received.

All work experience, education, training and other information substantiating how you meet the minimum qualifications must be included on your application by the filing deadline. Information submitted after the filing deadline will not be considered in determining whether you meet the minimum qualifications.

Applications completed improperly may be cause for ineligibility, disqualification or may lead to lower scores.

If you have any questions regarding this recruitment or application process, please contact the analyst in charge, Tina Pruett, by telephone at (415) 701-4532, or by email at tina.pruett@sfmta.com
Selection Procedures
The process may include a panel interview and performance exercise. Applicants will be required to complete a supplemental questionnaire at the time of application. Meeting the minimum qualifications does not guarantee an invitation to participate in the selection process. Applications will be screened down further using the desirable qualifications and competencies listed above. 
You must attach a cover letter detailing why you are interested in this opportunity to your application.
Conviction History
As a finalist for a job, you will be fingerprinted, and your fingerprints will be sent to the California Department of Justice (DOJ) and the Federal Bureau of Investigation (FBI). The resulting report of your conviction history (if any) will be used to determine whether the nature of your conviction (or arrest, in limited circumstances) conflicts with the specific duties and responsibilities of the job for which you are a finalist. If a conflict exists, you will be asked to present any evidence of rehabilitation that may mitigate the conflict, except when federal or state regulations bar employment in specific circumstances, such as:
Candidates applying for positions with the Unified School District and the Community College District may be disqualified from consideration should their conviction history not meet the standards established under the California Education Code.
Candidates applying for positions with the Recreation and Park Department may be disqualified from consideration should their conviction history not meet the standards established under California Public Resources Code 5164.
Having a conviction history does not automatically preclude you from a job with the City.
If you are selected as a finalist, the hiring department will contact you to schedule a fingerprinting appointment.
Disaster Service Workers
All City and County of San Francisco employees are designated Disaster Service Workers through state and local law (California Government Code Section 3100-3109). Employment with the City requires the affirmation of a loyalty oath to this effect. Employees are required to complete all Disaster Service Worker-related training as assigned, and to return to work as ordered in the event of an emergency.
Conclusion
Appointment Type: Permanent Exempt – Full Time. This position is excluded by the Charter from the competitive Civil Service examination process and shall serve at the discretion of the Appointing Officer.
Applicants are responsible for updating their email address or mailing address. Contact Information must be updated online at http://www.jobaps.com/sf  by clicking on "Update My Contact Info" and logging into your account.
General Information concerning City and County of San Francisco Employment Policies and Procedures:
Important Employment Information for the City and County of San Francisco can be obtained at http://sfdhr.org/information-about-hiring-process or hard copy at 1 South Van Ness Avenue, 4th Floor.
Copies of Application Documents:
Applicants should keep copies of all documents submitted, as these will not be returned.
Right to Work:
All persons entering the City and County of San Francisco workforce are required to provide verification of authorization to work in the United States.
Applicants with disabilities who meet the minimum eligibility requirements for this job announcement can find information on requesting a reasonable ADA Accommodation at: http://sfdhr.org/information-about-hiring-process#applicantswithdisabilities  
MINORITIES, WOMEN AND PERSONS WITH DISABILITIES ARE ENCOURAGED TO APPLY
Benefits
All employees hired on or after January 10, 2009 will be required (pursuant to San Francisco Charter Section A8.432) to contribute 2% of pre-tax compensation to fund retiree healthcare. In addition, most employees are required to make a member contribution towards retirement, ranging from 7.5%-13.25% of compensation. For more information on these provisions, please contact the personnel office of the hiring agency.
For more information about benefits, please click here.
Powered by