9180 Race, Equity & Inclusion Officer
Manager VI, MTA
Recruitment #PEX-9180-106356
| | |
| --- | --- |
| Department | Municipal Transportation Agency |
| Analyst | Lisamarie Chavis |
| Date Opened | 6/26/2020 12:00:00 PM |
| Filing Deadline | 7/31/2020 5:00:00 PM |
| Salary | $145,236.00 - $185,432.00/year (Salaries above this range may be negotiable) |
| Job Type | Permanent Exempt |
| Employment Type | Full-Time |
Introduction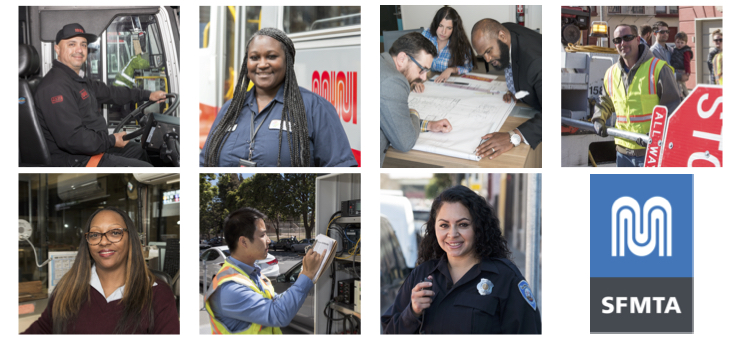 The following information describes the position for which applications are being solicited.
Make sure you read the entire announcement before completing the application form.
The purpose of this announcement is to fill a vacant position in this classification.
Division: Office of Race, Equity & Inclusion
Work Location: One South Van Ness Avenue, 7th Floor, San Francisco, CA 94103
Work Schedule: Monday through Friday, 8:00am to 5:00pm
APPOINTMENT TYPE:
Permanent Exempt, Full Time – This position is excluded by the Charter from the competitive Civil Service examination process and shall serve at the discretion of the Appointing Officer.
The San Francisco Municipal Transportation Agency (SFMTA) connects San Franciscans with their communities to enhance the economy, environment and, ultimately, the quality of life in the city. Whether you ride Muni, drive a car, walk, bicycle, take a taxi or ride paratransit, the SFMTA is there, helping you get where you need to go easily and safely. 
As an agency within the City and County of San Francisco, the SFMTA is responsible for managing the city's transportation network. The agency is governed by a seven-member Board of Directors, which is appointed by the mayor and confirmed by the Board of Supervisors. The Board of Directors provides policy oversight, including approval of the budget, permits for private transportation services, and change of fares, fees and fines. The Board also ensures that the public has a voice in the transportation projects and services that impact their communities.
SFMTA operates today's transportation system and works with partners to plan the transportation system of tomorrow. The agency has more than 6,000 employees who are responsible for the management of all ground transportation in the city. The SFMTA has oversight over public transit, as well as bicycling, paratransit, parking and curb management, street operations, walking, and taxis. It serves San Francisco by creating transportation options that are constant, practical and everywhere; we connect people with their community to enhance the economy, environment and quality of life. 
Every member of the San Francisco community deserves to thrive. Our city should be one where all can reach their full potential regardless of their race, gender identity, sexual orientation or what neighborhood they grew up in. That ideal is intimately linked to the transportation system, which connects us to opportunity, enrichment, and community. The SFMTA has the immense responsibility of ensuring dignified access and freedom of movement for all through its community engagement, planning, and service delivery. 
Achieving an equitable and inclusive future requires an honest appraisal of the past and how it has shaped our present reality. San Francisco has a long history of social inequity that has inhibited specific populations from being able to advance or even survive. Racial inequity has been particularly harmful, especially when compounded by oppression based on gender, class, ability, and other forms of identity.
The larger context of inequity in the city highlights the SFMTA's duty to create transportation options that are reliable, accessible, and affordable. Transportation must be a pathway, not a barrier, to just outcomes for marginalized people. 
The SFMTA's work is not easy, and in order to do it effectively, our workforce also needs to reach its full potential. Like the city that it serves, the SFMTA's workforce must represent a variety of backgrounds and experiences at all levels of the agency and ensure that each employee has the support they need to flourish. In parallel with the agency's external work, the SFMTA must be a workplace that actively addresses both societal inequities faced by its staff and specific inequities that materialize within its workforce. 
The Race, Equity & Inclusion (REI) Officer will report to the SFMTA Director of Transportation and have the singular focus of empowering the agency to prioritize racial equity, social equity, and inclusion in everything that it does. The REI Officer's responsibilities include: leadership on the creation and implementation of the agency's Racial Equity Action Plans; supporting staff in advancing equity through our service delivery; and leading efforts to create a more equitable and inclusive workplace, in collaboration with Human Resources, the Equal Employment Opportunity (EEO) team and others throughout the agency, as well as external partners. This position requires vision, strategic thinking, tact, compassion, and operational skills to set goals and take action in all aspects of diversity, equity, and inclusion. 
The REI Officer will seek just outcomes for members of historically-oppressed communities in the SFMTA workforce and across the city by addressing past & present inequities in agency policies, processes, and practices; prioritize racial equity given the uniquely harmful and pervasive nature of racial inequities, and the intersection of racial equity with other forms of social equity; and support progress towards a work environment where every SFMTA employee feels supported and valued, particularly those who hold historically-marginalized identities. This position will work closely with division directors and their senior managers to integrate racial equity, social equity, and inclusion best practices into the SFMTA's work. 
Major functions of this position will include, but are not limited to:
• Develops the Office of Race, Equity, and Inclusion at SFMTA, prioritizing and implementing initiatives and establishing key internal and external relationships. 
• Works with the EEO office and Executive Team members to establish agency goals and policies that address racial equity, social equity, and inclusion.
• Finalizes and implements the SFMTA's Racial Equity Action Plan, and provide on-going leadership to evaluate, refresh, and implement future versions of the Racial Equity Action Plan.
• Provides on-going, internal affinity groups through facilitation and information and training.
• Develops training curricula for SFMTA staff that may include: applying tools that combat implicit biases, building inclusive teams, anti-bullying and how to be an ally, promoting a positive workplace culture, advancing racial equity in your work, and other racial equity, social equity, and inclusion topics.
• Leads Equity & Inclusion (E&I) presentations and ensures that management and employees at all levels are trained on equity literacy.
• Develops comprehensive metrics and performance measures to track, evaluate and report on the effectiveness of equity initiatives, and recommends changes to improve racial equity, social equity, and inclusion outcomes.
• Presents findings and recommendations to internal and external stakeholders, such as staff at all levels, the SFMTA Board of Directors and community partners.
• Mentors, coaches and consults with team members, leaders, colleagues and partners in support of advancing racial equity, social equity, and inclusion values and initiatives throughout the agency. 
• Provides safe spaces, brave spaces, and workshops that allow SFMTA staff frequent and consistent opportunities to discuss racial equity, social equity, and inclusion.
• Advances San Francisco's racial equity, social equity, and inclusion efforts by partnering with internal and external stakeholders throughout the City to strategically align efforts in identifying core priorities for programmatic development and process improvement.
• Addresses, resolves, and mitigates highly complex programmatic issues, complaints, and protests.
• Collaborates with the SFMTA HR Director to develop initiatives to create a culture of care and connectedness for people from all different backgrounds, as well as to address barriers to creating an equitable and inclusive work environment for staff from diverse communities.
• Provides management guidance and support of the employee-led Outstanding Workplace Committee (OWC) to support the agency's evolution into a more inclusive workplace that engages staff of all backgrounds and functions. 
1. Possession of a bachelor's degree from an accredited college or university in social work, psychology, business, education or a related field; AND
2. Five (5) years of professional experience working in a cultural engagement, equity and inclusion function including three (3) years developing and implementing diversity/equity/inclusion programs; AND
3.  Three (3) years of supervisory experience.
Substitution:
Additional qualifying experience working in a cultural engagement, equity and inclusion function may substitute for up to two (2) years of the required education on a year-for-year basis.  One-year will be considered equivalent to 30 semester units/forty-five (45) quarter units.
Applicants must meet the minimum qualifications by the final filing date unless otherwise noted. One year of full-time experience is equivalent to 2000 hours. (2000 hours of qualifying work experience is based on a 40-hour work week.).  Any overtime hours that you work above forty (40) hours per week are not included in the calculation to determine full-time experience. 
DESIRABLE QUALIFICATIONS:
The stated desirable qualifications may be used to identify candidates advancing to the interview process and/or to identify job finalist(s) at the end of the selection process when referred for hiring.
• 
Master's Degree preferred.
• Experience in developing, implementing, and leading Diversity, Equity & Inclusion (DEI) programs, with demonstrable outcomes.
• Experience leading change in a complex organization. 
• Demonstrated experience developing programs, policies, or practices to expand inclusivity in organizational culture. 
• Demonstrated experience designing community engagement strategies that expand access and inclusion and achieve equitable outcomes.
• Experience identifying and addressing equity concerns related to public projects or policies.
• Experience in developing equity and inclusion programs, developing plans, monitoring progress, conducting trainings.
San Francisco Municipal Transportation Agency employment applications for this position will be accepted through an on-line process only.  A resume and cover letter must be attached to the online application. Mailed, hand delivered or faxed applications will not be accepted. Visit www.jobaps.com/sf to begin the application process.
• Click and select 9180 Race, Equity & Inclusion Officer (Manager VI, MTA) (PEX-9180-106356)
• Click on "Apply" and read and acknowledge the information
• Click on "I am a New User" if you have not previously registered, or on "I have REGISTERED PREVIOUSLY"
• Follow instructions given on the screen.
To submit resume using the online application:
• Select the "Resume" tab in the online application
• Follow instructions given on screen.
To submit cover letter using the online application:
• Select the "Other" tab in the online application
• Choose "Upload" as your method of submittal
• Click on "Upload Attachment"
• Follow instructions given on screen.
If you are having trouble attaching your resume and cover letter to the online application, you may submit by email to Lisamarie Chavis, Analyst at Lisamarie.Chavis@sfmta.com, subject: 9180 Race, Equity & Inclusion Officer (Manager VI, MTA) (PEX-9180-106356). Résumé will not be accepted in lieu of completing the online application.
In order to comply with social distancing guidelines, staff is working remotely at this time. We highly recommend applications be completed early.  If you are having difficulty submitting your application online, please contact us at 415.646.2744 between 8:30 a.m. – 12:00 p.m. and 1:00 p.m. - 4:30 p.m. Monday through Friday or by e-mail at Lisamarie.Chavis@sfmta.com.
Applicants may be contacted by email about this announcement and, therefore, it is their responsibility to ensure that their registered email address is accurate and kept up-to-date. Also, applicants must ensure that email from CCSF is not blocked on their computer by a spam filter. To prevent blocking, applicants should set up their email to accept CCSF mail from the following addresses: (@sfgov.org, @sfmta.com).
Upon successful submittal of the application online, the applicant will receive a notification on the screen, as well as in the applicant's e-mail inbox, acknowledging the receipt of the application.
Applicants may be required to submit verification of qualifying experience and education at any point in the application and/or departmental selection process. Written verification must be submitted on employer's official letterhead, specifying dates of employment, types of employment (part-time/full-time), job title(s), description of duties performed, and the verification must be signed by the employer. City employees will receive credit for the duties of the class to which they are appointed. If education verification is required, information on how to verify education requirements, including verifying foreign education credits or degree equivalency, can be found at http://sfdhr.org/index.aspx?page=456.
Note:
Falsifying one's education, training, or work experience or attempted deception on the application may result in disqualification for this and future job opportunities with the City and County of San Francisco.
Applications will be screened for relevant qualifying experience. Additional screening mechanisms may be implemented in order to determine candidates' qualifications. Only those applicants who most closely meet the needs of the Agency will be invited to participate in the selection process. Applicants meeting the minimum qualifications are not guaranteed advancement to the interview.
Qualified applicants with disabilities requiring reasonable accommodation in the selection process must contact the Agency by phone at 415.646.2744 or, if hearing impaired at 415.701.5043 (TTY) or in writing to the SFMTA Human Resources Operations Section, 1 South Van Ness Avenue, 6th Floor, San Francisco, CA 94103 (specify Class 9180 – Race, Equity & Inclusion Officer).
Applicants are responsible for updating their email address or mailing address. Contact Information must be updated online at http://www.jobaps.com/sf by clicking on "Update My Contact Info" and logging into your account.  If updating contact information online, applicants must contact the analyst at 415.646.2744 immediately to inform them of the change. Failure to do so may result in the loss of eligibility.
Make sure your application and any attachments to the application submitted at the time of filing are complete and accurate and include details on all experience, education, training and other information that qualifies you for this recruitment. Failure to submit a complete and accurate application at the time of filing may result in your ineligibility for this recruitment or inability to receive full credit for scoring purposes. Any new information concerning work experience, education, training and other information that is submitted after the filing deadline may not be used for scoring or considered to determine whether you meet the minimum qualifications.
General Information concerning City and County of San Francisco Employment Policies and Procedures:
Copies of Application Documents:
Applicants should keep copies of all documents submitted, as these will not be returned.
All persons entering the City and County of San Francisco workforce are required to provide verification of authorization to work in the United States.
Applicants with disabilities who meet the minimum eligibility requirements for this job announcement can find information on requesting a reasonable ADA Accommodation at:
MINORITIES, WOMEN AND PERSONS WITH DISABILITIES ARE ENCOURAGED TO APPLY
AN EQUAL OPPORTUNITY EMPLOYER
Conviction History
As a selected candidate for a job, you will be fingerprinted, and your fingerprints will be sent to the California Department of Justice (DOJ) and the Federal Bureau of Investigation (FBI). The resulting report of your conviction history (if any) will be used to determine whether the nature of your conviction (or arrest, in limited circumstances) conflicts with the specific duties and responsibilities of the job for which you are a selected candidate. If a conflict exists, you will be asked to present any evidence of rehabilitation that may mitigate the conflict, except when federal or state regulations bar employment in specific circumstances, such as:
Candidates for positions with the Unified School District and the Community College District may be disqualified from consideration should their conviction history not meet the standards established under the California Education Code.
Candidates for positions with the Recreation and Park Department may be disqualified from consideration should their conviction history not meet the standards established under California Public Resources Code 5164.
Having a conviction history does not automatically preclude you from a job with the City.
If you are a selected candidate, the hiring department will contact you to schedule a fingerprinting appointment.
Disaster Service Workers
All City and County of San Francisco employees are designated Disaster Service Workers through state and local law (California Government Code Section 3100-3109). Employment with the City requires the affirmation of a loyalty oath to this effect. Employees are required to complete all Disaster Service Worker-related training as assigned, and to return to work as ordered in the event of an emergency.
Benefits
All employees hired on or after January 10, 2009 will be required (pursuant to San Francisco Charter Section A8.432) to contribute 2% of pre-tax compensation to fund retiree healthcare. In addition, most employees are required to make a member contribution towards retirement, ranging from 7.5%-13.25% of compensation. For more information on these provisions, please contact the personnel office of the hiring agency.
For more information about benefits, please click here.
Powered by