1244 Senior Human Resources Analyst
Recruitment #TEX-1244-904509
| | |
| --- | --- |
| Department | Human Resources |
| Analyst | Giano Bito |
| Date Opened | 7/16/2021 5:00:00 PM |
| Filing Deadline | Continuous |
| Salary | $53.09 - $64.49/hour; $9,202.00 - $11,178.00/month; $110,422.00 - $134,134.00/year |
| Job Type | Temporary Exempt |
Introduction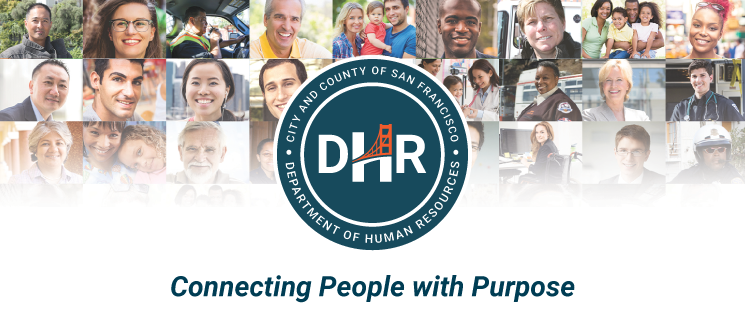 *ANNOUNCEMENT UPDATED 7/28/2021 TO REFLECT NEW CONDITION OF EMPLOYMENT*
CONDITION OF EMPLOYMENT
:
  All City and County of San Francisco employees are required to be vaccinated against COVID-19 as a condition of employment.  For details on how it is applicable to your employment, please click here.
Applicants are encouraged to apply as soon as possible as this announcement will remain open until the position is filled. The earliest it may close is 5:00 PM, Friday, July 23, 2021.
Appointment Type
Temporary Exempt (TEX), this position is excluded by the Charter from the competitive Civil Service examination process and shall serve at the discretion of the Appointing Officer. This position has a maximum duration of 36 months.

Position Description:

Under general direction the 1244 Senior Human Resources Analyst performs difficult and responsible professional and technical human resources work in the areas of recruitment, examinations, classification and compensation, employee and/or labor relations, benefits administration or human resources operations; may lead or supervise human resources analysts and/or clerical/technical staff.
This position is part of the Special Projects team under the Employment Services Division of DHR. The team provides direct, as-needed HR support to City departments, including exam development and administration, recruitment and selection through onboarding, leave management, reasonable accommodations, labor and employee relations, and operations. This position reports directly to the Employment Services Project Team HR Supervisor, but may be reassigned as necessary.
The essential functions of this position include:
Performs job analysis, constructs examinations; obtains input on exam development from subject matter experts; oversees test administration and scoring and determines relative weights to various parts of the examination; responds to exam-related protests; documents test validity and generates eligible lists.
Prepares job announcements, reviews employment applications to determine applicants' eligibility based on minimum qualifications, communicates with applicants.
Consults with and advises hiring managers on developing selection devices, interview questions and rating guidelines; coordinates hiring and selection processes.
Provides advice, consultation and information to departmental managers, supervisors and employees regarding organizational structures, appropriate staffing patterns, discipline, classification, compensation, budgetary issues and related personnel rules, policies and procedures, City Employee Leave and Reasonable Accommodation policies, and MOU interpretations.
Carries out, interprets, explains and enforces existing policies, methods and procedures relating to personnel administrative matters.
Conducts disciplinary hearings.
Responds to discrimination complaints.
Determines ADA reasonable accommodations.
Administers leaves of absence.
Reviews workers' compensation claims.
Responds to requests for salary and wage adjustments.
Consults with employee organizations.
Prepares correspondence, reports, and memos.
Compiles, prepares, reviews, and maintains important personnel information, reports, and records.
Other duties as required.
Minimum Qualifications
Education:
Possession of a baccalaureate degree from an accredited college or university.
Experience:
Three (3) years of verifiable professional human resources experience, similar to 1241 Human Resources Analyst, in one or more of the following areas of activity: recruitment and selection, classification and compensation, employee and/or labor relations, benefits administration and human resources operations.
Substitution:
Education Substitution - Additional qualifying work experience as a professional human resources analyst may be substituted for up to two years of the required education on a year-for-year basis (30 semester/ 45 quarter units equals one year).
Experience Substitution - Completion of a 12 month human resources trainee program equivalent to the City and County of San Francisco's 1249 Human Resources Training Program may substitute for one (1) year of required professional experience.
Experience Substitution - Possession of a Juris Doctorate (J.D.) or Master's degree in Personnel Administration, Human Resources Management, Business Administration, Public Administration or Clinical/School/Industrial-Organizational Psychology may substitute for one (1) year of the required professional experience.
Verification:
Applicants may be required to submit verification of qualifying education and experience at any point during the recruitment and selection process. If education verification is required, information on how to verify education requirements, including verifying foreign education credits or degree equivalency, can be found at https://sfdhr.org/how-verify-education-requirements
Note
: Falsifying one's education, training, or work experience or attempted deception on the application may result in disqualification for this and future job opportunities with the City and County of San Francisco.
How To Apply
Applications for City and County of San Francisco jobs are only accepted through an online process. Visit www.jobaps.com/sf to register an account (if you have not already done so) and begin the application process.
Select the desired job announcement

Select "Apply" and read and acknowledge the information

Select either "I am a New User" if you have not previously registered, or "I have Registered Previously"

Follow instructions on the screen
In line with the Official Public Health Order to slow the spread of COVID-19, "shelter-in-place" has been issued for all San Francisco residents that is expected to be in effect until further notice. As a result, Department of Human Resources (DHR)'s office (located at 1 South Van Ness Avenue, 4th Floor, San Francisco, CA 94103) is currently closed to the general public. If you have any questions, please feel free to email the Human Resources Analyst listed on this announcement.
Applicants may be contacted by email about this announcement and, therefore, it is their responsibility to ensure that their registered email address is accurate and kept up-to-date. Also, applicants must ensure that email from CCSF is not blocked on their computer by a spam filter. To prevent blocking, applicants should set up their email to accept CCSF mail from the following addresses (@sfgov.org, @sfdpw.org, @sfport.com, @flysfo.com, @sfwater.org, @sfdph.org, @asianart.org, @sfmta.com, @sfpl.org, @dcyf.org, @first5sf.org).
Applicants will receive a confirmation email that their online application has been received in response to every announcement for which they file. Applicants should retain this confirmation email for their records. Failure to receive this email means that the online application was not submitted or received.
All work experience, education, training and other information substantiating how you meet the minimum qualifications must be included on your application by the filing deadline. Information submitted after the filing deadline will not be considered in determining whether you meet the minimum qualifications.
Applications completed improperly may be cause for ineligibility, disqualification or may lead to lower scores.
If you have any questions regarding this recruitment or application process, please contact the exam analyst, Giano Bito by email at giano.bito@sfgov.org.
Selection Procedures
The selection process will include evaluation of applications in relation to minimum requirements. Applicants meeting the minimum qualifications are not guaranteed advancement to the interview. Depending on the number of applicants, the Department may establish and implement additional screening mechanisms to comparatively evaluate the qualifications of candidates. If this becomes necessary, only those applicants whose qualifications most closely meet the needs of the Department will be invited to participate in the oral/performance interview.
Conviction History
As a selected candidate for a job, you will be fingerprinted, and your fingerprints will be sent to the California Department of Justice (DOJ) and the Federal Bureau of Investigation (FBI). The resulting report of your conviction history (if any) will be used to determine whether the nature of your conviction (or arrest, in limited circumstances) conflicts with the specific duties and responsibilities of the job for which you are a selected candidate. If a conflict exists, you will be asked to present any evidence of rehabilitation that may mitigate the conflict, except when federal or state regulations bar employment in specific circumstances, such as:
Candidates for positions with the Unified School District and the Community College District may be disqualified from consideration should their conviction history not meet the standards established under the California Education Code.
Candidates for positions with the Recreation and Park Department may be disqualified from consideration should their conviction history not meet the standards established under California Public Resources Code 5164.
Having a conviction history does not automatically preclude you from a job with the City.
If you are a selected candidate, the hiring department will contact you to schedule a fingerprinting appointment.
Disaster Service Workers
All City and County of San Francisco employees are designated Disaster Service Workers through state and local law (California Government Code Section 3100-3109). Employment with the City requires the affirmation of a loyalty oath to this effect. Employees are required to complete all Disaster Service Worker-related training as assigned, and to return to work as ordered in the event of an emergency.
Conclusion
Reasonable Accommodation Request
Applicants with disabilities who meet the minimum eligibility requirements for this job announcement can find information on requesting a reasonable accommodation
here
.
Terms of Announcement
Applicants must be guided solely by the provisions of this announcement, including requirements, time periods and other particulars, except when superseded by federal, state or local laws, rules or regulations. Clerical errors may be corrected by the posting the correction on the Department of Human Resources website at
www.jobaps.com/sf
.
Copies of Application Documents
Applicants are advised to keep copies of all documents submitted. Submitted documents become a permanent part of the exam record and will not be returned. The hiring department may require applicants to submit the same documents and/or additional documents at a later date.
Right to Work
All persons entering the City and County of San Francisco workforce are required to provide verification of authorization to work in the United States.
General Information Concerning City and County of San Francisco Employment Policies and Procedures
Important employment information for the City and County of San Francisco can be obtained online
here
or hard copy at 1 South Van Ness Avenue, 4th Floor.
Issued: 7/16/2021
Carol Isen
Human Resources Director
Department of Human Resources
Recruitment ID Number: 904509
DHR / GB / giano.bito@sfgov.org

Benefits
All employees hired on or after January 10, 2009 will be required (pursuant to San Francisco Charter Section A8.432) to contribute 2% of pre-tax compensation to fund retiree healthcare. In addition, most employees are required to make a member contribution towards retirement, ranging from 7.5%-13.25% of compensation. For more information on these provisions, please contact the personnel office of the hiring agency.
For more information about benefits, please click here.
Click on a link below to apply for this position:
Powered by