1840 Junior Management Assistant
Recruitment #TEX-1840-904305
| | |
| --- | --- |
| Department | Human Resources |
| Analyst | Gary Chen |
| Date Opened | 2/10/2021 08:00:00 AM |
| Filing Deadline | 2/24/2021 5:00:00 PM |
| Salary | $32.79 - $39.88/hour; $5,683.00 - $6,912.00/month; $68,198.00 - $82,940.00/year |
| Job Type | Temporary Exempt |
Introduction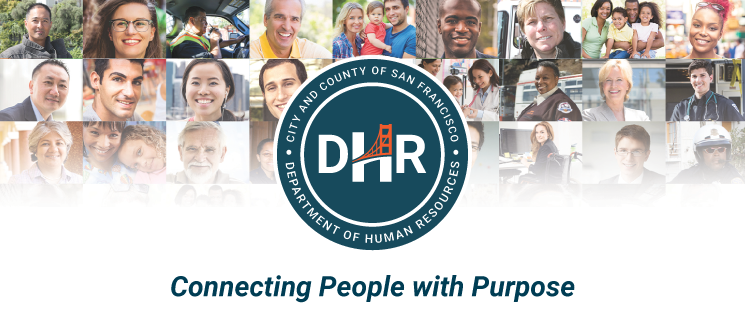 In line with the Official Public Health Order to slow the spread of COVID-19, "shelter-in-place" has been issued for all San Francisco residents that is expected to be in effect until further notice. As a result, the Department of Human Resources (DHR) office located at 1 South Van Ness Avenue, 4th Floor, San Francisco, CA 94103, is currently closed to the general public. If you have any questions, please feel free to email the Human Resources Analyst listed on this announcement.
Amended 2/10/2021: This announcement has been re-opened for additional recruitment purposes. Applicants who have already submitted an application do not need to re-apply. The new filing deadline will be Wednesday, February 24, 2021 @ 5:00 PM

Appointment Type: Temporary Exempt, Full-time, Category 17 appointment. This position is excluded by the Charter from the competitive civil service examination process. Appointment will not exceed a period of two years. Exempt employees are considered "at will" and serves at the discretion of the appointing officer.
Position Description:
The general duties and responsibilities of this position are to act as the Collective Bargaining Coordinator under the direction of the Employee Relations Department (ERD) Director in preparation for and during the upcoming MOU bargaining cycle and manages the grievance administration process. Duties of this position include, but are not limited to:
Regularly communicates with all stakeholders (the City's Unions, bargaining teams, mediators/arbitrators) in the negotiation process regarding the bargaining session, mediation/arbitration matters, release time requests, grievances and other related matters, while maintaining the master scheduling calendar.
Provide logistical support during bargaining such as procuring office supplies, obtaining audio/visual equipment, reserving and setting up conference rooms;
Assists ERD Director with creating bargaining budget and performing research in bargaining histories;
Assists vendors with the City vendor approval process;
Assists in finalizing all MOUs and filing with the BOS;
Maintains bargaining files upon completion of negotiations;
Maintains ERD electronic files and ERD file room;
Maintains both union contact lists and internal contact lists;
Maintains DHR ERD Webpage and E-Library;
Responsible for reporting ERD performance measures;
Manages the Employee Relations Department general inbox, and maintains department phone line/voicemails, incoming faxes and U.S. Mail;
Manages expedited arbitration calendar and coordinate schedule with arbitrators;
Processes all invoices related to outside negotiators, mediators/arbitrators, court reporters;
Coordinates grievance administration for the ERD – logs in and assigns new grievances, requests background documents from Departmental personnel representatives;
Responds to inquiries on grievances and interfaces with City Attorney's Office;
Maintains the grievance, settlement, and arbitration databases;
Processes settlement agreements, route for signatures;
Provides administrative and clerical support to the Employee Relations Division and the Employee Relations Director.
Minimum Qualifications
These minimum qualifications establish the education, training, experience, special skills and/or license(s) which are required for employment in the classification. Please note, additional qualifications (i.e., special conditions) may apply to a particular position and will be stated on the exam/job announcement.
Possession of a baccalaureate degree from an accredited college or university with major coursework in public or business administration, accounting, finance, economics, social sciences, education, or related field, or other areas closely related to specific department program or function.
Substitution: May substitute up to two (2) years of the required education with additional qualifying experience in program/office/operations management, budget development and/or administration, or contract/grant administration. One year (2000 hours) of additional qualifying experience will be considered equivalent to 30 semester units/45 quarter units.
How To Apply
Applications for City and County of San Francisco jobs are only accepted through an online process. Visit www.jobaps.com/sf to register an account (if you have not already done so) and begin the application process.
Select the desired job announcement
Select "Apply" and read and acknowledge the information
Select either "I am a New User" if you have not previously registered, or "I have Registered Previously"
Follow instructions on the screen
Computers are available for the public (from 8:00 a.m. to 5:00 p.m. Monday through Friday) to file online applications in the lobby of the Dept. of Human Resources at 1 South Van Ness Avenue, 4th Floor, San Francisco.
Applicants may be contacted by email about this announcement and, therefore, it is their responsibility to ensure that their registered email address is accurate and kept up-to-date. Also, applicants must ensure that email from CCSF is not blocked on their computer by a spam filter. To prevent blocking, applicants should set up their email to accept CCSF mail from the following addresses (@sfgov.org, @sfdpw.org, @sfport.com, @flysfo.com, @sfwater.org, @sfdph.org, @asianart.org, @sfmta.com, @sfpl.org, @dcyf.org, @first5sf.org, @famsf.org, @ccsf.edu).
Applicants will receive a confirmation email that their online application has been received in response to every announcement for which they file. Applicants should retain this confirmation email for their records. Failure to receive this email means that the online application was not submitted or received.
All work experience, education, training and other information substantiating how you meet the minimum qualifications must be included on your application by the filing deadline. Information submitted after the filing deadline will not be considered in determining whether you meet the minimum qualifications.
Applications completed improperly may be cause for ineligibility, disqualification or may lead to lower scores.
If you have any questions regarding this recruitment or application process, please contact the exam analyst, Gary Chen, at Gary.w.chen@sfgov.org.
Selection Plan
Screening of Applications:
Applications will be screened for relevant qualifying experience and education. Additional mechanisms may be implemented in order to determine candidate's qualifications. Only those applicants who most closely meet the needs of the Department will be invited to continue in the selection process. Applicants meeting the minimum qualifications are not guaranteed advancement in the process.
Conviction History
As a selected candidate for a job, you will be fingerprinted, and your fingerprints will be sent to the California Department of Justice (DOJ) and the Federal Bureau of Investigation (FBI). The resulting report of your conviction history (if any) will be used to determine whether the nature of your conviction (or arrest, in limited circumstances) conflicts with the specific duties and responsibilities of the job for which you are a selected candidate. If a conflict exists, you will be asked to present any evidence of rehabilitation that may mitigate the conflict, except when federal or state regulations bar employment in specific circumstances, such as:
Candidates for positions with the Unified School District and the Community College District may be disqualified from consideration should their conviction history not meet the standards established under the California Education Code.
Candidates for positions with the Recreation and Park Department may be disqualified from consideration should their conviction history not meet the standards established under California Public Resources Code 5164.
Having a conviction history does not automatically preclude you from a job with the City.
If you are a selected candidate, the hiring department will contact you to schedule a fingerprinting appointment.
Disaster Service Workers
All City and County of San Francisco employees are designated Disaster Service Workers through state and local law (California Government Code Section 3100-3109). Employment with the City requires the affirmation of a loyalty oath to this effect. Employees are required to complete all Disaster Service Worker-related training as assigned, and to return to work as ordered in the event of an emergency.
Conclusion
General Employment Information:

Important Employment Information for the City and County of San Francisco can be obtained at https://sfdhr.org/information-about-hiring-process
Terms of Announcement:

Applicants must be guided solely by the provisions of this announcement, including requirements, time periods and other particulars, except when superseded by federal, state or local laws, rules or regulations. Clerical errors may be corrected by the posting the correction on the Department of Human Resources website at www.jobaps.com/sf.
Reasonable Accommodation Requests:
Copies of Applications Documents:
Applicants are encouraged to keep copies of all documents submitted. Submitted documents become a permanent part of the exam records and will not be returned.
Right to Work:

All persons entering the City and County of San Francisco workforce are required to provide verification of authorization to work in the United States.
Appointment Type: Temporary Exempt (TEX)
Issued: November 16, 2020; Amended 2/10/21
Carol Isen
Acting Human Resources Director
Department of Human Resources
Recruitment ID Number: TEX-1840-904305
DHR / GWC / gary.w.chen@sfgov.org
Benefits
All employees hired on or after January 10, 2009 will be required (pursuant to San Francisco Charter Section A8.432) to contribute 2% of pre-tax compensation to fund retiree healthcare. In addition, most employees are required to make a member contribution towards retirement, ranging from 7.5%-13.25% of compensation. For more information on these provisions, please contact the personnel office of the hiring agency.
For more information about benefits, please click here.
Powered by