5289 Transportation Planner III
Recruitment #TEX-5289-093246
| | |
| --- | --- |
| Department | Municipal Transportation Agency |
| Analyst | Michelle Serrano-Nacorda |
| Date Opened | 1/11/2019 11:00:00 AM |
| Filing Deadline | 2/4/2019 5:00:00 PM |
| Salary | $98,124.00 - $119,262.00/year |
| Job Type | Temporary Exempt |
| Employment Type | Full-Time |
Introduction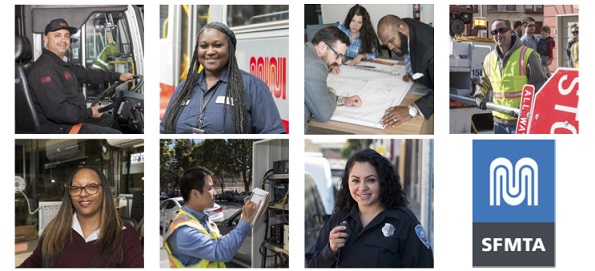 The following information describes the civil service classification for which applications are being solicited.
Make sure you read the entire announcement before completing the application form.
The purpose of this announcement is to fill a vacant position in this classification.
Division: Sustainable Streets
Section/Unit: Planning Subdivision, Planning Programs
Work Location: One South Van Ness, 7th floor, San Francisco, CA 94103
Work Schedule: Monday through Friday, 8 am to 5 pm

APPOINTMENT TYPE: Temporary Exempt - Full Time – This position is excluded by the Charter from the competitive Civil Service examination process and shall serve at the discretion of the Appointing Officer.

POSITION DESCRIPTION:
The Sustainable Streets Division's Planning Programs group seeks an organized and collaborative self-starter to coordinate the San Francisco Safe Routes to School (SRTS) partnership and support Transportation Demand Management (TDM) initiatives for the SFMTA.

The Planning Programs team is a seven-person team within the Planning Section of Sustainable Streets. The work focuses on transportation mode-shift strategies, transportation safety efforts and innovative pilot-programs geared towards supporting safe, convenient multimodal transportation. The team develops programs, policies and communication campaigns that utilize strong communication and analytical skills while working with developers, community organizations, and other city agencies in supporting the SFMTA in achieving its strategic goals.

Under direction from the TDM Program Manager, this position will serve an essential function in coordinating the activities of San Francisco's Safe Routes to School (SRTS) program, working with various city agencies and non-profit organizations to deliver the program's goals of increasing the percentage of students commuting in non-single-family vehicles to school sites, and to improve safety of walking and bicycling routes to schools. This position will specifically support the SRTS Non-Infrastructure Project which will implement educational, encouragement, and evaluation activities and will communicate with schools, members of the community, and policymakers regarding opportunities to make engineering safety improvements near schools. Additionally, this position may support various TDM initiatives led by the Planning Programs team including program design, implementation, and evaluation.

EXAMPLES OF IMPORTANT DUTIES:
The 5289 Transportation Planner III is responsible for the following coordination, program management, and planning functions in relation to Safe Routes to School and TDM initiatives:

• Coordinates activities of Safe Routes to School in partnership with representatives from SFMTA and other city departments and partner organizations; convenes and leads recurring meetings, and represents the SFMTA at these meetings.
• Project management of TDM campaigns and initiatives that includes research, outreach, and development of plans and strategies.
• Designs, analyzes and evaluates reports of transportation-related data for school-related transportation initiatives and TDM initiatives.
• Evaluates the success of school transportation projects and TDM initiatives.
• Develops, interprets, coordinates, executes and monitors urban transit or transportation policy and planning work related to school transportation that includes completion of complex written documents and reports.
• Supervises the design and preparation of maps, charts and other graphic materials to illustrate reports.
• Prepares or assists in the preparation of budgets, schedules, RFPs, and contracts for projects supporting SRTS or TDM work, oversees contractors delivering work related to SRTS or TDM initiatives, and documents agreements, positions, expectations, and requests with formal and contracted partners.
• Makes presentations to elected officials, communities, partner agencies and other groups.
• Prepares and reviews correspondence in response to public, Commission and/or other agency inquiries.
• Provides oversight and/or supervision of staff.
• Performs other related duties as assigned.

MINIMUM QUALIFICATIONS:
1. Possession of a baccalaureate degree from an accredited college or university; AND four (4) years of transportation planning experience; OR

2. Possession of a Master's Degree from an accredited college or university in Planning, Transportation, Transportation Engineering, Public Administration or other closely related field; AND two (2) years of transportation planning experience.

Substitution:
1. Additional transportation planning experience beyond the Minimum Qualifications may be substituted for the educational requirement on a year-for-year basis.

2. Additional post-graduate education as described in item 2 of the Minimum Qualifications may be substituted for required experience on a year-for-year basis (30 semester units/45 quarter units equal one (1) year of experience).

DESIRABLE QUALIFICATIONS:
• Excellent oral and written communication and presentation skills.
• Strong meeting coordination and facilitation skills.
• Excellent attention to detail and ability to manage work associated with multiple projects at once.
• Excellent interpersonal skills: tact, responsiveness, and comfort interacting with members of the public, partner agencies, contractors, and elected officials.
• Strong project management skills including ability to think strategically and analytically regarding the development and coordination of projects and programs.
• Ability to prepare graphic design and presentation materials using Adobe Creative Suite (Illustrator, Photoshop, InDesign) for outreach materials.
• Ability to use various computer applications, including Microsoft Word, Excel, Power Point, Outlook, Project and related software.
• Strong project management skills, including developing project scopes, managing project budgets and timelines, and overseeing staff working on the project.
• Detail oriented, ability to multi-task, manage stress, successfully adapt to new situations as they arise and meet project deadlines.
• Ability to create effective written reports for a variety of audiences.

HOW TO APPLY:
City and County of San Francisco employment applications for this position will be accepted through an on-line process only. A resume and cover letter describing how you meet the qualifications must be attached to the online application. Mailed, hand delivered or faxed applications will not be accepted. Visit www.jobaps.com/sf to begin the application process.

• Click and select 5289 Transportation Planner III (TEX-5289-093246)
• Click on "Apply" and read and acknowledge the information
• Click on "I am a New User" if you have not previously registered, or on "I have REGISTERED PREVIOUSLY"
• Follow instructions given on the screen

To submit resume using the online application:
• Select the "Resume" tab in the online application
• Follow instructions given on screen

To submit cover letter using the online application:
• Select the "Other" tab in the online application
• Choose "Upload" as your method of submittal
• Click on "Upload Attachment"
• Follow instructions given on screen

If you are having trouble attaching your resume and cover letter to the online application, you may submit by fax to (415) 581-5120, ATTN: 5289 Transportation Planner III (TEX-5289-093246). Resume will not be accepted in lieu of completing the online application.

Computer kiosks are available for the public from 8:00 a.m. to 5:00 p.m. Monday through Friday to file online applications in the lobby of the Department of Human Resources, 1 South Van Ness Avenue, 4th Floor, San Francisco and in the lobby of SFMTA Human Resources office, 1 South Van Ness Avenue, 6th Floor, San Francisco.

Applicants may be contacted by e-mail. It is their responsibility to ensure that their registered e-mail address is accurate and kept up-to-date. Also, applicants must ensure that e-mail from CCSF is not blocked on their computer by a spam filter. To prevent blocking, applicants should set up their e-mail to accept CCSF mail from the following addresses: (@sfgov.org, @sfmta.com).

Upon successful submittal of the application online, the applicant will receive a notification on the screen, as well as in the applicant's e-mail inbox, acknowledging the receipt of the application.

If you are having difficulty submitting your application online, please contact me at (415) 646-2193 between 8:30 a.m. - 12:00 p.m. and 1:00 p.m. - 4:30 p.m. Monday through Friday or by e-mail at Michelle.Serrano-Nacorda@sfmta.com  

VERIFICATION:
Applicants may be required to submit verification of qualifying education, experience, and driver license at any point in the application and/or departmental selection process. Written verification (proof) of qualifying experience must verify that the applicant meets the minimum qualifications stated on the announcement. Written verification must be submitted on employer's official letterhead, specifying name of employee, dates of employment, types of employment (part-time/full-time), job title(s), description of duties performed, and the verification must be signed by the employer. City employees will receive credit for the duties of the class to which they are appointed. Credit for experience obtained outside of the employee's class will be allowed only if recorded in accordance with the provisions of the Civil Service Commission Rules. Experience claimed in self-employment must be supported by documents verifying income, earnings, business license and experience comparable to the minimum qualifications of the position. Copies of income tax papers or other documents listing occupations and total earnings must be submitted. If education verification is required, information on how to verify education requirements, including verifying foreign education credits or degree equivalency, can be found at http://sfdhr.org/index.aspx?page=456.

Note: Falsifying one's education, training, or work experience or attempted deception on the application may result in disqualification for this and future job opportunities with the City and County of San Francisco.

SELECTION PROCEDURES:
Applications will be screened for relevant qualifying experience. Additional screening mechanisms may be implemented in order to determine candidates' qualifications. Only those applicants who most closely meet the needs of the Agency will be invited to participate in the selection process. Applicants meeting the minimum qualifications are not guaranteed advancement to the interview.

Qualified applicants with disabilities requiring reasonable accommodation in the selection process must contact the Agency by phone at (415) 646-2193 or, if hearing impaired at (415) 701-5043 (TTY) or in writing to the SFMTA Human Resources Operations Section, 1 South Van Ness Avenue, 6th Floor, San Francisco, CA 94103 (specify Class 5289).

NOTES:
Applicants are responsible for updating their e-mail address or mailing address. Contact Information must be updated online at http://www.jobaps.com/sf by clicking on "Update My Contact Info" and logging into your account. If updating contact information online, applicants must contact the analyst at (415) 646-2193 immediately to inform them of the change. Failure to do so may result in the loss of eligibility.

Make sure your application and any attachments to the application submitted at the time of filing are complete and accurate and include details on all experience, education, training and other information that qualifies you for this recruitment. Failure to submit a complete and accurate application at the time of filing may result in your ineligibility for this recruitment or inability to receive full credit for scoring purposes. Any new information concerning work experience, education, training and other information that is submitted after the filing deadline may not be used for scoring or considered to determine whether you meet the minimum qualifications.

Employee Wellness Program:
The SFMTA strives to be your employer of choice by providing an environment that supports your personal health & wellbeing with physical, nutritional, mental/emotional and financial resources. Since 2010 the SFMTA has been providing worksite wellness activities, as well as providing recognition opportunities to those individuals who successfully achieve personal milestones in wellness. For more details on the Wellness Program, please visit Employee Wellness Program Description page: https://www.sfmta.com/reports/employee-wellness-program.
MINORITIES, WOMEN AND PERSONS WITH DISABILITIES ARE ENCOURAGED TO APPLY
AN EQUAL OPPORTUNITY EMPLOYER
Conviction History
As a selected candidate for a job, you will be fingerprinted, and your fingerprints will be sent to the California Department of Justice (DOJ) and the Federal Bureau of Investigation (FBI). The resulting report of your conviction history (if any) will be used to determine whether the nature of your conviction (or arrest, in limited circumstances) conflicts with the specific duties and responsibilities of the job for which you are a selected candidate. If a conflict exists, you will be asked to present any evidence of rehabilitation that may mitigate the conflict, except when federal or state regulations bar employment in specific circumstances, such as:
Candidates for positions with the Unified School District and the Community College District may be disqualified from consideration should their conviction history not meet the standards established under the California Education Code.
Candidates for positions with the Recreation and Park Department may be disqualified from consideration should their conviction history not meet the standards established under California Public Resources Code 5164.
Having a conviction history does not automatically preclude you from a job with the City.
If you are a selected candidate, the hiring department will contact you to schedule a fingerprinting appointment.
Disaster Service Workers
All City and County of San Francisco employees are designated Disaster Service Workers through state and local law (California Government Code Section 3100-3109). Employment with the City requires the affirmation of a loyalty oath to this effect. Employees are required to complete all Disaster Service Worker-related training as assigned, and to return to work as ordered in the event of an emergency.
Benefits
All employees hired on or after January 10, 2009 will be required (pursuant to San Francisco Charter Section A8.432) to contribute 2% of pre-tax compensation to fund retiree healthcare. In addition, most employees are required to make a member contribution towards retirement, ranging from 7.5%-13.25% of compensation. For more information on these provisions, please contact the personnel office of the hiring agency.
For more information about benefits, please click here.
Powered by