1241 - Human Resources Analyst
Recruitment #TPV-1241-075421
| | |
| --- | --- |
| Specialty | Employee Services Division |
| Department | Municipal Transportation Agency |
| Analyst | Tina Pruett |
| Date Opened | 3/15/2017 08:00:00 AM |
| Filing Deadline | 4/3/2017 11:00:00 AM |
| Salary | $32.56 - $47.91/hour; $5,644.00 - $8,305.00/month; $67,730.00 - $99,658.00/year |
| Job Type | Provisional |
| Employment Type | Full-Time |
Introduction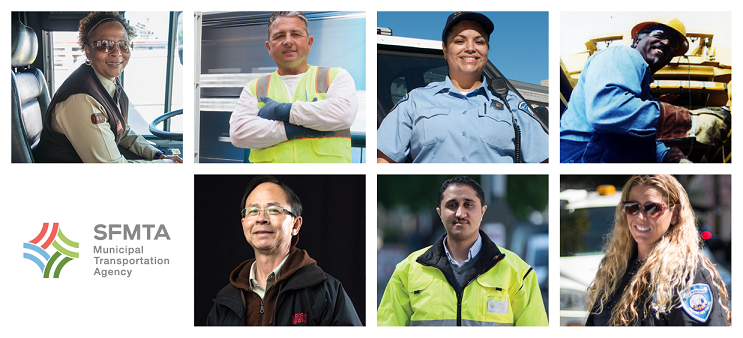 Why Join the SFMTA Employee Services Team?
The SFMTA recognizes that our employees are our greatest asset, and in order to achieve our strategic goals of creating an outstanding workplace and making non-private auto modes of transportation the preferred means of travel in San Francisco, we are dedicated to hiring quality Transit Operators and supporting our employees with outreach and information. If you are an organized multi-tasker with an interest in supporting a diverse employee population, then this is the job for you!
The Human Resources Analyst will coordinate the hiring and on-boarding of our largest employee group - our Transit Operators, in addition to staffing employee outreach events aimed at answering employee questions and educating staff about their benefits and rights.
We're looking for someone who is:
An organized overachiever. You will need to work in a fast-paced environment with competing requirements and deadlines.

Creative! You will work to resolve customer challenges with a "Can Do" perspective.

Customer service oriented. Your role will require you to be responsive and proactive when addressing management and employee needs.

Interested in learning and developing your career. In addition to coordinating the Transit Operator hiring and on-boarding, you will learn how to respond to subpoenas and public records requests, conduct outreach events, and review Conviction History information.

Analytical and data driven. You will understand and have the ability to research, analyze and present data on a variety of topics using a variety of sources.
What you will do all day:
Provide guidance, consultation, and administration for the hiring process for Transit Operators.
Interpret and apply relevant contract provisions, including compensation, seniority and/or probationary status provisions, to advise managers, employees and job seekers.     
Supervise a team of clerical/technical personnel engaged in the preparation and maintenance of confidential forms and files.
Respond to subpoena/public records requests.
Answer employee questions regarding a variety of issues related to available resources, employment status, benefits and pay, and City and agency policies and procedures.
Review Conviction History (rap sheet) information and identify convictions with a nexus to the position, and coordinate and conduct background interviews to determine if candidates have successfully rehabilitated.
Prepare written materials including letters, reports, memoranda, and forms.
A few reasons you might love this job:
Your work will have a direct impact on the agency's ability to achieve our strategic goals.

You will be challenged daily.

You will work with people who are passionate about their work and recognized experts in their fields.

You will have ample learning opportunities that will allow you to develop your skills and abilities.
A few challenges you might face in this job:
You will work on multiple assignments with competing deadlines.

Your customers will include some people with difficult personalities and/or high expectations.

Sometimes you will need to tell people that they cannot do things that violate policies or rules.
Competencies Required:
Action & Results Focused (Taking Initiative): Initiating tasks and focusing on accomplishment
Adaptability: Responding positively to change and modifying behavior as the situation requires
Analyzing & Interpreting Data: Drawing meaning and conclusions from quantitative or qualitative data
Attention to Detail: Focusing on the details of work content, work steps, and final work products
Building & Maintaining Relationships: Establishing rapport and maintaining mutually productive relationships
Critical Thinking: Analytically and logically evaluating information, propositions, and claims
Customer Focus: Attending to the needs and expectations of customers
Decision Making: Choosing optimal courses of action in a timely manner
Displaying Ownership and Accountability: Holding self and others accountable for measurable high-quality, timely, and cost-effective results
Handling Stress: Maintaining emotional stability and self-control under pressure, challenge, or adversity
Informing: Proactively obtaining and sharing information
Innovation: Imagining and devising new and better ways of doing things
Learning Agility: Seeking learning opportunities and applying the lessons to one's work
Organizational Systems Thinking: Comprehending the organization as a system of integrated and interdependent functions
Political & Organizational Savvy: Working skillfully with politics, procedures, and protocols across organizational levels and boundaries
Professional Integrity & Ethics: Displaying honesty, adherence to principles, and personal accountability
Strategic Thinking & Perspective: Evaluating immediate actions in context of achieving long range objective
Valuing Diversity: Appreciating the benefits of varied backgrounds and cultures in the workplace
Writing: Communicating effectively in writing
Minimum Qualifications
In order to qualify for this opportunity you must have:
A baccalaureate degree from an accredited college or university. AND 

One (1) year of professional human resources experience in one or more of the following areas of activity: recruitment and selection, classification and compensation, employee and/or labor relations, benefits administration and human resources operations.
Substitution:
Education Substitution - Verifiable professional human resources work experience in one or more of the following areas may substitute for up to two years of the required education on a year-for-year basis: recruitment and selection, classification and compensation, employee and/or labor relations, benefits administration and human resources operations. (One year of experience will be considered equivalent to 30 semester or 45 quarter units of college coursework.)
Experience Substitution - Completion of a 12 month human resources trainee program equivalent to the City and County of San Francisco's 1249 Human Resources Training Program may substitute for the one (1) year of required professional experience.
Desirable Qualifications:
Extensive experience using JobAps and PeopleSoft software.
Experience reading and interpreting Collective Bargaining Agreements (CBA) and Memorandum of Understanding (MOU).
Experience facilitating meetings and giving presentations or training.
Experience working in a Civil Service/Merit System public agency.
Experience issuing and/or resolving certifications/referrals from an eligible list.
Experience and skill in writing analytical reports, memos, and persuasive communication.
Experience in Human Resources Operations.
Experience in recruitment and hiring coordination.
Experience reading and interpreting DMV H6 reports.
Experience reading and interpreting criminal history records ("rap sheets").
Experience responding to records requests and subpoena procedures (civil and criminal).
A Bachelor's or Master's degree in I/O Psychology, Public Administration, Business Administration or Human Resources Management
How To Apply
The application deadline has been extended. Applications will be accepted until a sufficient pool of qualified candidates have been identified. The announcement may close at anytime, but no sooner than 5:00 p.m. on Tuesday March 21, 2017.
Applications for City and County of San Francisco jobs are being accepted through an online process. Visit www.jobaps.com/sf to register an account (if you have not already done so) and begin the application process.
Select the desired job announcement

Select "Apply" and read and acknowledge the information

Select either "I am a New User" if you have not previously registered, or "I have Registered Previously"

Follow instructions on the screen
Computers are available for the public (from 8:00 a.m. to 5:00 p.m. Monday through Friday) to file online applications in the lobby of the Dept. of Human Resources at 1 South Van Ness Avenue, 4th Floor, San Francisco, and the SFMTA Human Resources Department at 1 S. Van Ness Ave, 6th Floor, San Francisco.
Applicants may be contacted by email about this announcement and, therefore, it is their responsibility to ensure that their registered email address is accurate and kept up-to-date.  Also, applicants must ensure that email from CCSF is not blocked on their computer by a spam filter.  To prevent blocking, applicants should set up their email to accept CCSF mail from the following addresses (@sfgov.org, @sfdpw.org, @sfport.com, @flysfo.com, @sfwater.org, @sfdph.org, @asianart.org, @sfmta.com).
Applicants will receive a confirmation email that their online application has been received in response to every announcement for which they file.  Applicants should retain this confirmation email for their records.  Failure to receive this email means that the online application was not submitted or received.
All work experience, education, training and other information substantiating how you meet the minimum qualifications must be included on your application by the filing deadline.  Information submitted after the filing deadline will not be considered in determining whether you meet the minimum qualifications.
Applications completed improperly may be cause for ineligibility, disqualification or may lead to lower scores.
If you have any questions regarding this recruitment or application process, please contact the analyst in charge, Tina Pruett, by telephone at (415) 701-4532, or by email at tina.pruett@sfmta.com.
Selection Procedures
The process may include a panel interview and performance exercise. Applicants will be required to complete a supplemental questionnaire at the time of application. Meeting the minimum qualifications does not guarantee an invitation to participate in the selection process. Applications will be screened down further using the desirable qualifications and competencies listed above.  
Conviction History
As a finalist for a job, you will be fingerprinted, and your fingerprints will be sent to the California Department of Justice (DOJ) and the Federal Bureau of Investigation (FBI). The resulting report of your conviction history (if any) will be used to determine whether the nature of your conviction (or arrest, in limited circumstances) conflicts with the specific duties and responsibilities of the job for which you are a finalist. If a conflict exists, you will be asked to present any evidence of rehabilitation that may mitigate the conflict, except when federal or state regulations bar employment in specific circumstances, such as:
Candidates applying for positions with the Unified School District and the Community College District may be disqualified from consideration should their conviction history not meet the standards established under the California Education Code.
Candidates applying for positions with the Recreation and Park Department may be disqualified from consideration should their conviction history not meet the standards established under California Public Resources Code 5164.
Having a conviction history does not automatically preclude you from a job with the City.
If you are selected as a finalist, the hiring department will contact you to schedule a fingerprinting appointment.
Disaster Service Workers
All City and County of San Francisco employees are designated Disaster Service Workers through state and local law (California Government Code Section 3100-3109). Employment with the City requires the affirmation of a loyalty oath to this effect. Employees are required to complete all Disaster Service Worker-related training as assigned, and to return to work as ordered in the event of an emergency.
Conclusion
Applicants with disabilities who meet the minimum eligibility requirements for this job announcement can find information on requesting a reasonable ADA Accommodation at: 
http://sfdhr.org/information-about-hiring-process#applicantswithdisabilities
General Information concerning City and County of San Francisco Employment Policies and Procedures:
Important Employment Information for the City and County of San Francisco can be obtained at http://sfdhr.org/information-about-hiring-process or hard copy at 1 South Van Ness Avenue, 4th Floor.
Copies of Application Documents:
Applicants should keep copies of all documents submitted, as these will not be returned.
Right to Work:
All persons entering the City and County of San Francisco workforce are required to provide verification of authorization to work in the United States.
Terms of Announcement: Applicants must be guided solely by the provisions of this announcement, including requirements, time periods and other particulars, except when superseded by federal, state or local laws, rules or regulations. Clerical errors may be corrected by posting the correction on the Department of Human Resources website at: http://www.sfdhr.org/index.aspx?page=20#announcementsdefinitions
Women, Minorities, and Persons with Disabilities are encouraged to apply
An Equal Opportunity Employer
Issued: March 15, 2017; Amended March 22, 2017 to extend the application deadline
Micki  Callahan
Human Resources Director
Department of Human Resources
Recruitment ID Number: 075421
MTA/TP 415.701.4532
Benefits
All employees hired on or after January 10, 2009 will be required (pursuant to San Francisco Charter Section A8.432) to contribute 2% of pre-tax compensation to fund retiree healthcare. In addition, most employees are required to make a member contribution towards retirement, ranging from 7.5%-13.25% of compensation. For more information on these provisions, please contact the personnel office of the hiring agency.
For more information about benefits, please click here.
Powered by