1654 Accountant III
Recruitment #TPV-1654-096105
| | |
| --- | --- |
| Department | Municipal Transportation Agency |
| Analyst | Maggie Lau |
| Date Opened | 6/6/2019 08:00:00 AM |
| Filing Deadline | 6/20/2019 5:00:00 PM |
| Salary | $90,740.00 - $110,292.00/year |
| Job Type | Provisional |
| Employment Type | Full-Time |
Introduction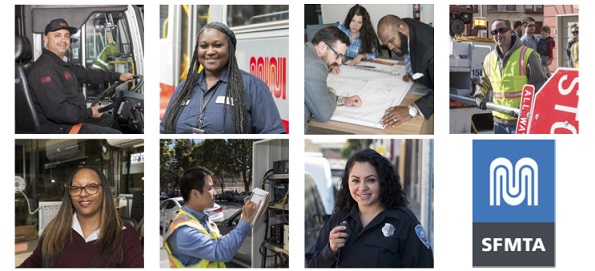 The following information describes the civil service classification for which applications are being solicited.
Make sure you read the entire announcement before completing the application form.
The purpose of this announcement is to fill three vacant positions in this classification.
Provisional incumbents will be required to succeed in the civil service examination for this classification in order to be considered for permanent appointment.
TYPE OF APPOINTMENT: PROVISIONAL (TPV)
This is not a permanent appointment. A provisional appointee must participate and be successful in a Civil Service examination for this classification and be selected through an open competitive process in order to be considered for permanent appointment. Provisional appointments may not exceed three (3) years.
No. of Position(s): Three (3)
Appointment Type: Provisional
Division: Finance and Information Technology
Unit: Grants Accounting (1), Process & Control (2)
Location: 1 South Van Ness Ave, 8th Floor
POSITION DESCRIPTION: GRANTS ACCOUNTING UNIT
Led by the Controller, the Accounting section of the SFMTA Finance and Information Technology Division is responsible for the Agency's administration that is responsible for preparing the financial statements, maintaining the general ledger, paying the Agency's bills, billing various grantors, operations, financial analysis, and more. The SFMTA Accounting section is responsible for recording and reporting the cash flows and conducting financial reporting. The section works closely with various internal teams such as project managers, finance and operations, and external advisors to execute all accounting related initiatives, ensure compliance, and help build a solid Accounting function in the SFMTA. We are looking for hands-on and results driven accounting professionals who thrives in a fast pace and uncertain environment.

Under general direction, this class performs complex accounting duties including but not limited to: assists in providing directives and training to enhance operation efficiencies; reviews, analyzes, inputs, and posts citywide and departmental accounting transactions; participates in year-end closing activities and analyses; monitors fund expenditure projections to actual, identifies and resolves spending issues; provides management with status reports on accounting and financial activity; presents and explains accounting activity to financial and non-financial managers, co-workers and clients interprets and explains existing accounting, auditing and fiscal policies, procedures and transactions; prepares and reviews detailed complex financial reports; monitors department's financial activities; provides accounting services and technical assistance to resolve issues.

The essential functions of this position include:
Assisting the Grants Accounting and Capital Project Accounting team to validate balances of all applicable general ledger accounts and project balances in PeopleSoft


Performing analysis and reconciliation of all General Ledger (GL) accounts, capital and facilities maintenance project total budget and actuals, and Grant balances using PeopleSoft


Closing-out appropriation and encumbrance of professional services, general services, commodity items and work orders


Assisting during the annual financial statement audit, single audit and other internal and external audits


Assisting with the Grants clean-up and other remaining clean-up


Reviewing and processing construction and professional services contracts for certification and invoice payments in accordance with the contract provisions


Assisting in the processing of travel advances, travel liquidations, travel and employee reimbursement requests in accordance with the Controller's Office Travel and Employee Reimbursement Policies


Providing support in the processing of commodity and general services Purchase Orders and payments, direct payments, and other payment related transactions


Creating financial and procurement reports in PeopleSoft


Performing other related duties and ad-hoc projects as assigned

POSITION DESCRIPTION: PROCESS & CONTROL UNIT
Process & Control Unit (P&C) is part of the Accounting and Budget office of the Municipal Transportation Agency (MTA) - Finance and Information Technology Division (FIT). P&C handles the Accounts Payable of MTA's fiscal operating budget. The ideal candidate for this position should be able to work cohesively in a team setting; be able to build and maintain relationship within the unit, agency, other city department employees, as well as agency vendors. The individual must have attention to detail; be able to work independently with focus on supporting the agency culture, mission, and goals; be able to communicate well in written and verbal format and have good listening skills. The position excesses supervision of subordinate employees; experience in coaching and mentoring others is desirable.

The essential functions of this position include:
Performing complex accounting and financial transaction processing into the City's financial system accurately and timely and ensuring compliance with City and departmental policies, requirements and procedures


Conducting accounts review and analysis related to budget, purchasing, payments and payroll


Assisting with fiscal year-end closing and different audits. This can include posting of year-end accounting entries, reviewing of financial records, responding to auditor requests for information and records, and developing and implementing corrective actions to address audit issues


Delegating, planning, directing and assigning accounting work to subordinate staff. Training, coaching, monitoring and evaluating staff performance


Reviewing and approving accounting transactions performed by subordinate staff in conformance with established procedures and controls


Processing interdepartmental work order services for "Requesting" departmental payments and creating and monitoring "Performance" billing for City departments


Participating on special projects that promotes business process improvement


Monitoring on a regular basis disbursement and encumbrance accounts, processes and transactions to ensure accuracy, timeliness and controls


Interpreting and explaining existing City and departmental accounting and fiscal policies and procedures to various divisions/units within the organization


Analyzing, participating, recommending improvements, developing, and implementing fiscal policies, procedures and internal controls and re-aligning business practices with technology


Performing the job duties for special projects and other duties as assigned

Minimum Qualifications
Education and Experience:
A baccalaureate degree from an accredited college or university, preferably with major course work in accounting, finance, business administration, or related field. Such education must include eighteen (18) semester units or twenty-four (24) quarter units of coursework in accounting; AND (4) years of professional accounting which includes analysis or problem solving. Experience must include: Working with an automated financial system, (preferably a government system) performing difficult and responsible accounting, as well as preparing financial records and reports; OR
City and County of San Francisco Employees with four (4) years of professional accounting experience including experience as a 1652 Accountant II.
Substitution
A Master's degree in accounting, business administration, computer information systems, public policy, or a closely related field may be substituted for one year of work experience.
Desirable Qualifications:
Ability to use various computer software programs; PeopleSoft and Excel
Ability to communicate written information (includes ability to proofread
Experience in supervising and coaching staff
Ability to evaluate/analyze information/data and to exercise good judgment relative to that evaluation or analysis
Knowledge of, and ability to apply, financial/fiscal principles (including the ability to use mathematical and statistical formulas)
Ability to conduct research
How To Apply
City and County of San Francisco employment applications for this position will be accepted through an online process only www.jobaps.com/sf to register an account (if you have not already done so) and begin the application process.
Click and select 1654 Accountant III (TPV-1654-096105)
Click "Apply" and read and acknowledge the information
Click on either "I am a New User" if you have not previously registered, or "I have Registered Previously"
Follow instructions on the screen
Computers are available for the public from 8:00 a.m. to 5:00 p.m. Monday through Friday to file online applications in the lobby of the Department of Human Resources, 1 South Van Ness Avenue, 4th Floor, San Francisco and in the lobby of SFMTA Human Resources office, 1 South Van Ness Avenue, 6th Floor, San Francisco.

Applicants may be contacted by email about this announcement and, therefore, it is their responsibility to ensure that their registered email address is accurate and kept up-to-date. Also, applicants must ensure that email from CCSF is not blocked on their computer by a spam filter. To prevent blocking, applicants should set up their email to accept CCSF mail from the following addresses (@sfgov.org, @sfdpw.org, @sfport.com, @flysfo.com, @sfwater.org, @sfdph.org, @asianart.org, @sfmta.com, @sfpl.org, @dcyf.org, @first5sf.org).

Applicants will receive a confirmation email that their online application has been received in response to every announcement for which they file. Applicants should retain this confirmation email for their records. Failure to receive this email means that the online application was not submitted or received.

Upon successful submittal of the application online, the applicant will receive a notification on the screen, as well as in the applicant's e-mail inbox, acknowledging the receipt of the application by the SFMTA - Merit Section. If you are having difficulty submitting your application online, please contact us at 415.646.2446 or 415.701.4441 between 8:30 a.m. – 12:00 p.m. and 1:00 p.m. - 4:30 p.m. Monday through Friday or by e-mail at Maggie.lau@sfmta.com.

Verification
Applicants may be required to submit verification of qualifying experience, education, and driver license at any point in the application, examination and/or departmental selection process. Written verification (proof) of qualifying experience must verify that the applicant meets the minimum qualifications stated on the examination announcement. Written verification must be submitted on employer's official letterhead, specifying dates of employment, types of employment (part-time/full-time), job title(s), description of duties performed, and the verification must be signed by the employer. City employees will receive credit for the duties of the class to which they are appointed. Credit for experience obtained outside of the employee's class will be allowed only if recorded in accordance with the provisions of the Civil Service Commission Rules. Experience claimed in self-employment must be supported by documents verifying income, earnings, business license and experience comparable to the minimum qualifications of the position. Copies of income tax papers or other documents listing occupations and total earnings must be submitted. If education verification is required, information on how to verify education requirements, including verifying foreign education credits or degree equivalency, can be found at here.

Note: Falsifying one's education, training, or work experience or attempted deception on the application may result in disqualification for this and future job opportunities with the City and County of San Francisco.
Selection Procedures
The selection process will include evaluation of applications in relation to minimum requirements. Depending on the number of applicants, the Department may establish and implement additional screening mechanisms to comparatively evaluation qualifications of candidates. If this becomes necessary, only those applicants whose qualifications most closely meet the needs of the Department will be invited for an interview.

Applicants who meet the minimum qualifications are not guaranteed to advance through all of the steps in the selection process.

NOTES:
Make sure your application and any attachments to the application submitted at the time of filing are complete and accurate and include details on all experience, education, training and other information that qualifies you for this recruitment. Failure to submit a complete and accurate application at the time of filing may result in your ineligibility for this recruitment or inability to receive full credit for scoring purposes. Any new information concerning work experience, education, training and other information that is submitted after the filing deadline may not be used for scoring or considered to determine whether you meet the minimum qualifications.

Qualified applicants with disabilities requiring reasonable accommodation in the selection process must contact the SFMTA by phone at 415.646.2446, 415.701.4441 or 415.701.5043 (TTY); or in writing to: SFMTA Human Resources, Merit Section, 1 South Van Ness, 6th Floor, San Francisco, CA 94103. For further information, contact 415.646.2446 or 415.701.4441.
Conviction History
As a finalist for a job, you will be fingerprinted, and your fingerprints will be sent to the California Department of Justice (DOJ) and the Federal Bureau of Investigation (FBI). The resulting report of your conviction history (if any) will be used to determine whether the nature of your conviction (or arrest, in limited circumstances) conflicts with the specific duties and responsibilities of the job for which you are a finalist. If a conflict exists, you will be asked to present any evidence of rehabilitation that may mitigate the conflict, except when federal or state regulations bar employment in specific circumstances, such as:
Candidates applying for positions with the Unified School District and the Community College District may be disqualified from consideration should their conviction history not meet the standards established under the California Education Code.
Candidates applying for positions with the Recreation and Park Department may be disqualified from consideration should their conviction history not meet the standards established under California Public Resources Code 5164.
Having a conviction history does not automatically preclude you from a job with the City. If you are selected as a finalist, the hiring department will contact you to schedule a fingerprinting appointment.
Disaster Service Workers
All City and County of San Francisco employees are designated Disaster Service Workers through state and local law (California Government Code Section 3100-3109). Employment with the City requires the affirmation of a loyalty oath to this effect. Employees are required to complete all Disaster Service Worker-related training as assigned, and to return to work as ordered in the event of an emergency.
Conclusion
Reasonable Accommodation Request
Applicants with disabilities who meet the minimum eligibility requirements for this job announcement can find information on requesting a reasonable accommodation here.

General Information Concerning City and County of San Francisco Employment Policies and Procedures
Important employment information for the City and County of San Francisco can be obtained online here or hard copy at 1 South Van Ness Avenue, 4th Floor.

Terms of Announcement
Applicants must be guided solely by the provisions of this announcement, including requirements, time periods and other particulars, except when superseded by federal, state or local laws, rules or regulations. Clerical errors may be corrected by the posting the correction on the Department of Human Resources website at www.jobaps.com/sf.

Copies of Application Documents
Applicants are advised to keep copies of all documents submitted. Submitted documents become a permanent part of the exam record and will not be returned. The hiring department may require applicants to submit the same documents and/or additional documents at a later date.

Right to Work
All persons entering the City and County of San Francisco workforce are required to provide verification of authorization to work in the United States.

Employee Wellness Program
The SFMTA strives to be your employer of choice by providing an environment that supports your personal health & wellbeing with physical, nutritional, mental/emotional and financial resources. Since 2010 the SFMTA has been providing worksite wellness activities, as well as providing recognition opportunities to those individuals who successfully achieve personal milestones in wellness. For more details on the Wellness Program, please visit Employee Wellness Program Description page here.
MINORITIES, WOMEN AND PERSONS WITH DISABILITIES ARE ENCOURAGED TO APPLY
AN EQUAL OPPORTUNITY EMPLOYER
Issued: June 6, 2019
Micki Callahan
Human Resources Director
Department of Human Resources
Recruitment ID #: TPV-1654-096105
MTA/ML: 415-646-2446
Benefits
All employees hired on or after January 10, 2009 will be required (pursuant to San Francisco Charter Section A8.432) to contribute 2% of pre-tax compensation to fund retiree healthcare. In addition, most employees are required to make a member contribution towards retirement, ranging from 7.5%-13.25% of compensation. For more information on these provisions, please contact the personnel office of the hiring agency.
For more information about benefits, please click here.
Powered by