Introduction
Tahoe Truckee Area Regional Transit (TART) provides safe and direct means of transportation service for North Lake Tahoe residents and visitors. TART is committed to providing comprehensive and reliable transit service to its passengers along with a comfortable and pleasant ride in and around the beautiful Lake Tahoe area.
Placer County is comprised of over 1,400 square miles of beautiful and diverse geography, ranging from the residential and commercial areas of South Placer, westward through the historic foothill areas of Auburn, Foresthill and Colfax, and to the County's jewel of the North Lake Tahoe basin. Placer County is a great place to live, visit, and work. For more information about living and working in Placer County, please go to www.visitplacer.com
An office view of Lake Tahoe while providing a critical service to the community, need we say more?  Apply today.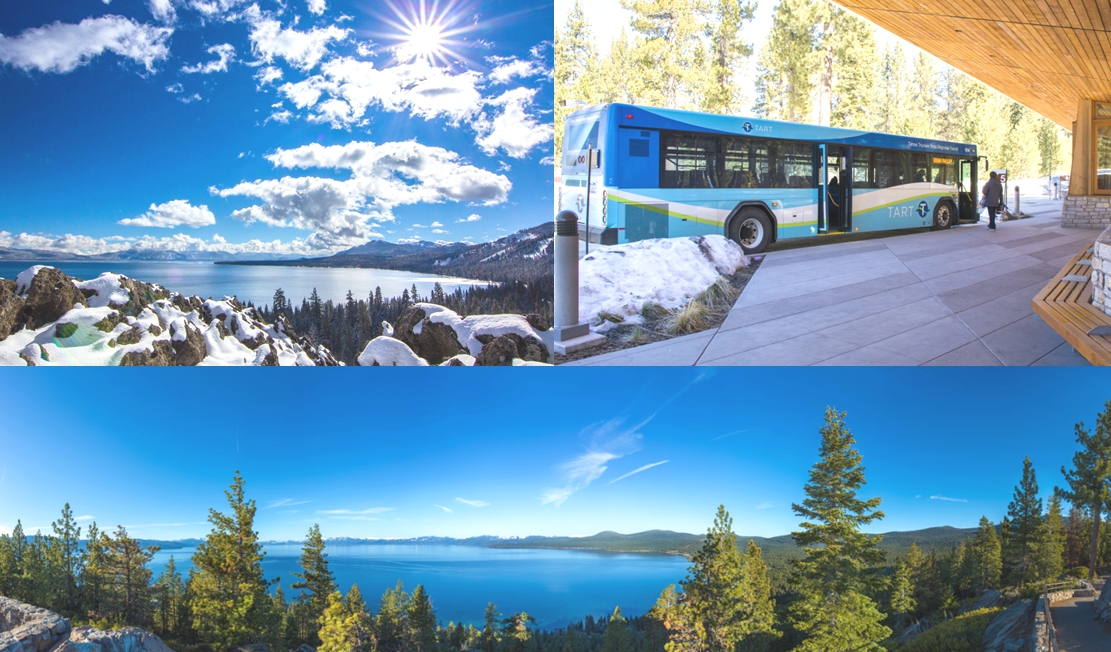 THIS RECRUITMENT IS OPEN UNTIL FILLED AND WILL BE USED TO FILL
LAKE TAHOE VACANCIES ONLY.
POSITION INFORMATION
Please Note: This recruitment will be closing at 5:00 PM on December 22, 2017 and on January 1, 2018 a new Bus Driver II (TART) recruitment will open. If you are interested in applying for the Bus Driver II (TART), please apply for this open recruitment and the appropriate new recruitment on or after January 1, 2018. If you have any questions, please contact HR at 530-889-4060 and ask to speak to an HR employee about the Bus Driver recruitments.
Why Placer - TART bus driver Bruce Hall from Placer County Video Portal on Vimeo.
This job posting will be updated to reflect current vacancies.  For more information regarding TART's service and routes, click HERE.
Current TART Bus Driver Vacancies:
Six (6) Permanent Full Time

Medical, Dental and Vision Benefited Positions
CalPERS Pension
Salary plus additional $775 per month Tahoe subsistence pay (See below)

Nine (9) Extra Help / Temporary

Non-benefited

A variety of shifts are available for assignment, including morning, mid-day and late night 7-days a week.

Limit of 28 hours per week / 999 hours per fiscal year (960 CalPERS retired annuitants).

Eligible for transition to Permanent assignments

 
The selection process includes an interview and a criminal background check. Candidates will then be required to pass a physical and a required DOT drug clearance.  
Salary plus additional $775 per month Tahoe Branch Assignment Premium for employees who demonstrate and certify residency in the Tahoe basin.
DEFINITION
To operate and perform routine maintenance on a public transit vehicle in passenger service; to operate a public transit vehicle safely and legally; and to practice principles of good customer service.
DISTINGUISHING CHARACTERISTICS
This is the full journey level class within the Bus Driver series.  This class is distinguished from the Bus Driver I by the assignment of the full range of duties.  Employees at this level receive only occasional instruction or assistance as new or unusual situations arise and are fully aware of the operating procedures and policies within the work unit.  Positions in this class are flexibly staffed and are normally filled by advancement from the entry level.
This class is distinguished from the Senior Bus Driver in that the latter performs Bus Driver training and various administrative duties.
SUPERVISION RECEIVED AND EXERCISED
Receives general supervision from the Transportation Supervisor and technical and functional supervision from a Senior Bus Driver.
EXAMPLES OF ESSENTIAL DUTIES
Duties may include, but are not limited to, the following:
Drive a bus or other transit vehicle in passenger service over designated routes in accordance with time schedules or dispatcher instructions.

When assigned, transport passengers on field trips and to special events.

Assist passengers in entering and leaving the vehicle, as necessary; load and secure wheelchairs.

Assist passengers with schedule, route and direction information.

When applicable, make sure safety belts are properly fastened.

Observe behavior of passengers and maintain order as necessary.

Render emergency aid to passengers, when necessary.

Conduct safety inspections of transit vehicle prior to operation in accordance with Department of Motor Vehicles and other applicable standards.

Perform minor maintenance, repair and cleaning work on transit vehicles; fuel vehicles and check fluids.

Collect fares, sell tickets, count passengers and keep records of bus operation.

Operate a two-way radio.

Install and remove tire chains, when necessary.

Build and maintain positive working relationships with co-workers, other County employees and the public using principles of good customer service.

Perform related duties as assigned.
MINIMUM QUALIFICATIONS
It is the applicant's responsibility to identify in their application materials how they meet the Minimum Qualifications listed below.
Experience and Training
Any combination of experience and training that would provide the required knowledge and abilities is qualifying.  A typical way to obtain the required knowledge and abilities would be:

Experience: One year of responsible paid driving experience involving the carrying of passengers.

Training: Successful completion of the experience requirement is proof of sufficient training for this class.

License or Certificate:
KNOWLEDGE, SKILLS, AND ABILITIES
Knowledge of:
California Vehicle Code applicable to the operation of vehicles for the transportation of passengers.

Applicable Placer County policies and regulations.

Emergency procedures; elements of first aid and CPR.

Principles of good customer service.

Vehicle maintenance practices and techniques used in making minor repairs.
Ability to:
Drive a transit vehicle safely and efficiently.

Analyze situations quickly and objectively and determine proper course of action.

Relate well to passengers and maintain order among passengers, when necessary.

Act quickly and calmly in emergency situations.

On a continuous basis, know and understand bus driving activities and observe safety rules. 

Intermittently analyze driving conditions; identify safety hazards; and remember how to operate a bus.

Intermittently sit while driving a bus; stand and walk while performing routine maintenance on a bus; regularly lift very heavy weight.

Work with various cultural and ethnic groups in a tactful and effective manner.

Establish and maintain effective working relationships with those contacted in the course of work.

Understand and follow written and oral instructions.
SELECTION PROCEDURE
Training & Experience Rating (100%)
Based upon responses to the supplemental questionnaire, the applicant's education, training and experience will be evaluated using a pre-determined formula.  Scores from this evaluation will determine applicant ranking and placement on the eligible list.
All applicants who meet minimum qualifications will be required to respond to an online Conviction History Questionnaire, which will be sent as a link on their notification that minimum qualifications have been met.  Failure to respond to this questionnaire within (3) three calendar days of the minimum qualification notification will result in disqualification from the examination.
CONDITION OF EMPLOYMENT
Prior to the date of hire, applicants must undergo a fingerprint test by the Department of Justice, pass a medical examination, which may include a drug screening and possibly a psychological evaluation, sign a constitutional oath and submit proof of U.S. citizenship or legal right to remain and work in the U.S.  For some positions, applicants may also be required to submit proof of age, undergo a background investigation and/or be bonded.
MODIFIED AGENCY SHOP
All new permanent employees, with the exception of sworn law enforcement and those in management and confidential groups, shall be required to join the employee organization or pay an 'Agency Fee' as a condition of employment.
SUBSTITUTE LISTS
The eligible list(s) resulting from this recruitment may be certified as a substitute list for a substantially similar classification.  For this purpose, a substantially similar classification is one at a lower level in the same classification (example: entry level vs. journey) and/or a similar classification (similar work performed, similar training and experience qualifications required). If you are contacted for an interview by a County department, you will be informed of the classification and other relevant information. If you choose not to interview for a substantially similar classification, you will remain on the eligible list for which you originally applied.
EMPLOYEES OF OTHER PUBLIC AGENCIES
Placer County offers an expedited process for qualifying certain applicants for interviews. Candidates currently employed, or employed within the last year, by a public agency operating under a personnel civil service or merit system may be eligible to be placed on a Public Agency Eligible List and certified as eligible for appointment to a similar job assignment without going through the examination process. For more information on the Public Agency Eligible List, to download forms, or to apply, please visit our website at: http://www.jobaps.com/placer/sup/abfreenames.asp.
EQUAL OPPORTUNITY EMPLOYER
Thank you for your interest in employment with Placer County. Placer County is an equal opportunity employer and is committed to an active nondiscrimination program. It is the stated policy of Placer County that harassment and retaliation is prohibited and that all employees and applicants shall receive equal consideration and treatment. All recruitment, hiring, transfer and promotion will be based on the qualifications of the individual for the positions being filled regardless of sex, sexual orientation, race, color, ancestry, religious creed, national origin, physical disability (Including HIV and AIDS), mental disability, medical condition (cancer or genetic characteristics/information), age (40 or over), marital status, pregnancy, childbirth and related medical conditions, or any other classification protected by federal, state or local laws or ordinance. Please contact the Human Resources Department at least 5 working days before a scheduled examination if you require accommodation in the examination process. Medical disability verification may be required prior to accommodation.
BENEFITS
The following information represents benefits currently available to permanent Placer County employees and may be subject to change.  It is advisable that applicants inquire as to the most current benefit package during hiring interviews or by contacting the Human Resources Department.