Job Opportunities
The City and County of San Francisco Department of Public Health (DPH) expects a significant uptick in the number of COVID-19 patients. In response, DPH is planning a variety of non-hospital response efforts that will require the assistance of volunteer licensed medical professionals. For information about these volunteer opportunities, please email DHR-EVC@sfgov.org.

Looking for More Opportunities?

All New Openings will now be published on the City's new SmartRecruiters Career Page. Please be sure to check https://careers.smartrecruiters.com/CityAndCountyOfSanFrancisco1/ for the most up-to-date postings.

We are in the process of switching over to a system for handling applications called SmartRecruiters. Over the course of the next few weeks and months we will be piloting the new system. Therefore you may see some job opportunities that will allow you to apply through SmartRecruiters, and other opportunities that will allow you to apply through the JobAps system. We are switching systems slowly so we can collect feedback and make changes based on how jobseekers experience the new system.
Job Seekers: To see the City and County of San Francisco's schedule for citywide CBT exams click here
Featured Opportunities


NEW! 0902 Director of Policy and Legislative Affairs
0941 Manager VI, Customer Services Bureau Director
0951 Deputy Director I - Park Ranger Chief
7372 Stationary Engineer, Sewage Plant
8504 Deputy Sheriff (Academy Trained)
NEW! 9775 Senior Community Development Specialist II - Senior Asset Manager
NEW! 9775 Senior Community Development Specialist II - Multifamily Lending Senior Project Manager
SF Civic Tech Engineering
Access to City Employment (ACE) Program
Registered Nursing Job Opportunities
Senior Physician Specialist Opportunities
Senior Psychiatric Physician Specialist Opportunities
Entry-level Police Officer
Deputy Sheriff (Entry Level)
Entry-level Firefighter
Student Intern Opportunities
8238 Public Safety Communications Dispatcher
Please visit our facebook page and become a fan to get updates on featured recruitments in your facebook feed.

Helpful Videos
How to Search for a City Job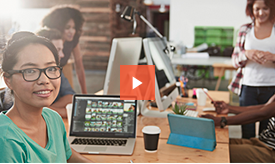 How to Apply for a City Job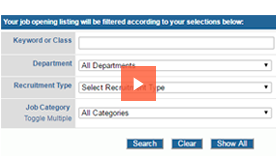 Equal Employment Opportunity: The City and County of San Francisco encourages women, minorities and persons with disabilities to apply. Applicants will be considered regardless of their sex, race, age, religion, color, national origin, ancestry, physical disability, mental disability, medical condition (associated with cancer, a history of cancer, or genetic characteristics), HIV/AIDS status, genetic information, marital status, sexual orientation, gender, gender identity, gender expression, military and veteran status, or other protected category under the law.

INFORMATION RELATING TO PRIVACY: Any information entered in JobAps while preparing your application will be retained by JobAps as soon as you save that information (i.e., click on the save button). For example, even though your application may still be incomplete and not submitted, JobAps will be required to keep any information that you choose to save. Please note that JobAps holds all confidential information in the strictest of confidence and does not disclose or provide access to confidential information to unauthorized persons.
Civil Service Commission Rules for the City and County of San Francisco specify announcement, application and examination policies and procedures, including applicant appeal rights. They can be found on the Civil Service Commission website at http://sfgov.org/civilservice/rules. Copies of specific rules can also be obtained at the Department of Human Resources, 1 South Van Ness Avenue, 4th Floor, San Francisco, CA 94103. Protests regarding matters not subject to appeal to the Civil Service Commission must be submitted in writing to the Human Resources Director no later than five business days from notification of the decision or action.
Master Application
The application template

| | |
| --- | --- |
| Master Application | You can update your Master Application at any time to keep it up-to-date. You can use it to copy into any new application. |
Permanent Jobs
Job opening listings that match the search filter.
Job Title
Department
Salary
Filing Deadline
Status
0932 Mgr IV-Director Jail Health Behavioral Health & Re-entry Svc PBT-0932-108833
Department of Public Health
$69.05 - $88.11/hour; $11,969.00 - $15,273.00/month; $143,624.00 - $183,274.00/year
Continuous
Status
0941 Manager VI, Customer Services Bureau Director PBT-0941-112091
Public Utilities Commission
$79.94 - $102.03/hour; $13,856.00 - $17,684.00/month; $166,270.00 - $212,212.00/year
Continuous
Status
0941 Manager VI, Subdivision & Mapping Manager PBT-0941-111599
San Francisco Public Works
$79.94 - $102.03/hour; $13,856.00 - $17,684.00/month; $166,270.00 - $212,212.00/year
Continuous
Status
104X Applications Engineer (All Levels)


(For Informational Purposes Only)

CCT-104X-901675
Citywide
$91,364.00 - $151,710.00/year
Continuous
Status
104X Networks Engineer (All Levels)


(For Informational Purposes Only)

CCT-104X-901676
Citywide
$91,364.00 - $151,710.00/year
Continuous
Status
104X Security Engineer (All Levels)


(For Informational Purposes Only)

CCT-104X-901677
Citywide
$91,364.00 - $151,710.00/year
Continuous
Status
104X Systems Engineer (All Levels)


(For Informational Purposes Only)

CCT-104X-901678
Citywide
$91,364.00 - $151,710.00/year
Continuous
Status
1652 Accountant II PCS-1652-052342
Controller
$40.01 - $48.59/hour; $6,936.00 - $8,422.00/month; $83,226.00 - $101,062.00/year
Continuous
Status
2305 Psychiatric Technician CBT-2305-107840
Department of Public Health
$37.44 - $45.50/hour; $6,489.00 - $7,887.00/month; $77,870.00 - $94,640.00/year
Continuous
Status
2314 Behavioral Health Team Leader CBT-2314-104644
Department of Public Health
$39.21 - $47.65/hour; $6,797.00 - $8,259.00/month; $81,562.00 - $99,112.00/year
Continuous
Status
2320 Registered Nurse (Neonatal Care Training Program) CCT-2320-900402
Department of Public Health
$68.04 - $89.35/hour; $11,793.00 - $15,487.00/month; $141,518.00 - $185,848.00/year
Continuous
Status
2320 Registered Nurse (Occupational Health) CCT-2320-900426
Department of Public Health
$68.04 - $89.35/hour; $11,793.00 - $15,487.00/month; $141,518.00 - $185,848.00/year
Continuous
Status
2320 Registered Nurse (Perinatal Training Program) CCT-2320-900403
Department of Public Health
$68.04 - $89.35/hour; $11,793.00 - $15,487.00/month; $141,518.00 - $185,848.00/year
Continuous
Status
2320 Registered Nurse [Ambulatory Care] CCT-2320-900400
Department of Public Health
$68.04 - $89.35/hour; $11,793.00 - $15,487.00/month; $141,518.00 - $185,848.00/year
Continuous
Status
2320 Registered Nurse [Correctional Facility/Jail Health Nursing] CCT-2320-900421
Department of Public Health
$68.04 - $89.35/hour; $11,793.00 - $15,487.00/month; $141,518.00 - $185,848.00/year
Continuous
Status
2320 Registered Nurse [Critical Care Training Program] CCT-2320-900424
Department of Public Health
$68.04 - $89.35/hour; $11,793.00 - $15,487.00/month; $141,518.00 - $185,848.00/year
Continuous
Status
2320 Registered Nurse [Critical Care] CCT-2320-900422
Department of Public Health
$68.04 - $89.35/hour; $11,793.00 - $15,487.00/month; $141,518.00 - $185,848.00/year
Continuous
Status
2320 Registered Nurse [Emergency Care Training Program] CCT-2320-900390
Department of Public Health
$68.04 - $89.35/hour; $11,793.00 - $15,487.00/month; $141,518.00 - $185,848.00/year
Continuous
Status
2320 Registered Nurse [Emergency Care] CCT-2320-900387
Department of Public Health
$68.04 - $89.35/hour; $11,793.00 - $15,487.00/month; $141,518.00 - $185,848.00/year
Continuous
Status
2320 Registered Nurse [General] - Med Surg/Periop/Psych Training CCT-2320-900430
Department of Public Health
$68.04 - $89.35/hour; $11,793.00 - $15,487.00/month; $141,518.00 - $185,848.00/year
Continuous
Status
2320 Registered Nurse [Home Health Care] CCT-2320-900425
Department of Public Health
$68.04 - $89.35/hour; $11,793.00 - $15,487.00/month; $141,518.00 - $185,848.00/year
Continuous
Status
2320 Registered Nurse [Informatics] CCT-2320-901316
Department of Public Health
$68.04 - $89.35/hour; $11,793.00 - $15,487.00/month; $141,518.00 - $185,848.00/year
Continuous
Status
2320 Registered Nurse [Long Term Care/Geriatric Nursing] CCT-2320-900429
Department of Public Health
$68.04 - $89.35/hour; $11,793.00 - $15,487.00/month; $141,518.00 - $185,848.00/year
Continuous
Status
2320 Registered Nurse [Medical-Surgical] CCT-2320-900412
Department of Public Health
$68.04 - $89.35/hour; $11,793.00 - $15,487.00/month; $141,518.00 - $185,848.00/year
Continuous
Status
2320 Registered Nurse [Neonatal Intensive Care] CCT-2320-900399
Department of Public Health
$68.04 - $89.35/hour; $11,793.00 - $15,487.00/month; $141,518.00 - $185,848.00/year
Continuous
Status
2320 Registered Nurse [Perinatal] CCT-2320-900404
Department of Public Health
$68.04 - $89.35/hour; $11,793.00 - $15,487.00/month; $141,518.00 - $185,848.00/year
Continuous
Status
2320 Registered Nurse [Perioperative Operating Room] CCT-2320-900320
Department of Public Health
$68.04 - $89.35/hour; $11,793.00 - $15,487.00/month; $141,518.00 - $185,848.00/year
Continuous
Status
2320 Registered Nurse [Psychiatric Care] CCT-2320-900420
Department of Public Health
$68.04 - $89.35/hour; $11,793.00 - $15,487.00/month; $141,518.00 - $185,848.00/year
Continuous
Status
2320 Registered Nurse [Quality Management] CCT-2320-900406
Department of Public Health
$68.04 - $89.35/hour; $11,793.00 - $15,487.00/month; $141,518.00 - $185,848.00/year
Continuous
Status
5215 Fire Protection Engineer CCT-5215-904453
Public Safety
$64.79 - $78.74/hour; $11,230.00 - $13,648.00/month; $134,758.00 - $163,774.00/year
Continuous
Status
6139 Senior Industrial Hygienist PBT-6139-110805
Department of Public Health
$134,186.00 - $163,072.00/year
Continuous
Status
8238 Public Safety Communications Dispatcher CCT-8238-903154
Department of Emergency Management
$46.15 - $56.10/hour; $7,999.00 - $9,724.00/month; $95,992.00 - $116,688.00/year
Continuous
Status
8504 Deputy Sheriff [Academy Trained] CCT-8504-904100
Sheriff
$38.39 - $59.51/hour; $6,654.00 - $10,316.00/month; $79,846.00 - $123,786.00/year
Continuous
Status
9163 Transit Operator MTA-9163-INFORM
Municipal Transportation Agency
$28.00 - $40.00/hour
Continuous
Status
Deputy Sheriff [Entry Level] CCT-8302-902653
Sheriff
$79,846.00 - $101,920.00/year
Continuous
Status
Entry Level (H-2) Firefighter CCT-H002-900310
Fire Department
$83,486.00 - $128,804.00/year
Continuous
Status
H003 EMT/Paramedic/Firefighter CCT-H003-904505
Fire Department
$36.78 - $71.58/hour; $6,374.00 - $12,406.00/month; $76,492.00 - $148,876.00/year
Continuous
Status
Police Officer CCT-Q002-060667
Public Safety Q2
$92,560.00 - $128,778.00/year
Continuous
Status
Temporary Provisional Jobs
Exempt Positions
Job opening listings that match the search filter.
Job Title
Department
Salary
Filing Deadline
Status
0902 Mayoral Staff XIV PEX-0902-113837
Mayor
$121,238.00 - $154,726.00/year
Continuous
Status
0923 Director, Committee on Information Technology (COIT) PEX-0923-101778
Administrative Services
$124,072.00 - $158,366.00/year
Continuous
Status
0931 Manager III, Chief Information Security Officer PEX-0931-112038
Board Of Supervisors
$64.31 - $82.09/hour; $11,148.00 - $14,229.00/month; $133,770.00 - $170,742.00/year
Continuous
Status
0932 Manager IV - Human Resources Manager PEX-0932-111681
Recreation and Parks
$69.05 - $88.11/hour; $11,969.00 - $15,273.00/month; $143,624.00 - $183,274.00/year
Continuous
Status
0932 Manager IV, Budget Director PEX-0932-109685
Homelessness and Supportive Housing Services
$66.70 - $85.13/hour; $11,561.00 - $14,755.00/month; $138,736.00 - $177,060.00/year
Continuous
Status
0932 ONE System Project Leader PEX-0932-904409
Homelessness and Supportive Housing Services
$66.70 - $85.13/hour; $11,561.00 - $14,755.00/month; $138,736.00 - $177,060.00/year
Continuous
Status
0933 Manager V - Emergency Medical Services Administrator PEX-0933-113263
Department of Emergency Management
$74.45 - $95.05/hour; $12,905.00 - $16,475.00/month; $154,856.00 - $197,704.00/year
Continuous
Status
0951 Deputy Director I - Park Ranger Chief PEX-0951-109222
Recreation and Parks
$55.55 - $70.93/hour; $9,629.00 - $12,294.00/month; $115,544.00 - $147,524.00/year
Continuous
Status
1043 Senior Database Engineer PEX-1043-106733
Department of Technology
$131,924.00 - $165,958.00/year
Continuous
Status
1043 Senior Network Engineer PEX-1043-111884
Department of Technology
$63.43 - $79.79/hour; $10,994.00 - $13,830.00/month; $131,924.00 - $165,958.00/year
Continuous
Status
1053 Functional Analyst - Payroll Team TEX-1053-094702
Controller
$53.45 - $67.25/hour; $9,265.00 - $11,657.00/month; $111,176.00 - $139,880.00/year
Continuous
Status
1053 PeopleSoft Technical Analyst TEX-1053-092649
Controller
$53.45 - $67.25/hour; $9,265.00 - $11,657.00/month; $111,176.00 - $139,880.00/year
Continuous
Status
1054 - Principal Business Analyst TEX-1054-113181
Police
$61.89 - $77.85/hour; $10,727.00 - $13,494.00/month; $128,726.00 - $161,928.00/year
Continuous
Status
1062 IS Programmer Analyst TEX-1062-062288
Adult Probation
$39.88 - $50.15/hour; $6,912.00 - $8,693.00/month; $82,940.00 - $104,312.00/year
Continuous
Status
1063 PeopleSoft Programmer Analyst PEX-1063-110580
Controller
$46.80 - $58.91/hour; $8,112.00 - $10,212.00/month; $97,344.00 - $122,538.00/year
Continuous
Status
1064 Peoplesoft Programmer Analyst PEX-1064-105929
Controller
$54.50 - $68.58/hour; $9,447.00 - $11,886.00/month; $113,360.00 - $142,636.00/year
Continuous
Status
1070 IS Project Director - PMO PEX-1070-097188
Controller
$68.24 - $85.83/hour; $11,828.00 - $14,876.00/month; $141,934.00 - $178,516.00/year
Continuous
Status
1092 Service Desk Support Analyst TEX-1092-105998
Department of Technology
$35.58 - $44.09/hour; $6,166.00 - $7,642.00/month; $73,996.00 - $91,702.00/year
Continuous
Status
1094 Senior Desktop Support Lead PEX-1094-105522
Department of Technology
$52.56 - $65.14/hour; $9,111.00 - $11,291.00/month; $109,330.00 - $135,486.00/year
Continuous
Status
1114 Senior Portfolio Manager - Private Equity PEX-1114-113190
San Francisco Employees' Retirement System
$165,750.00 - $211,588.00/year
Continuous
Status
1654 Accountant III TEX-1654-113413
Controller
$48.39 - $58.81/hour; $8,387.00 - $10,194.00/month; $100,646.00 - $122,330.00/year
Continuous
Status
1704 Communications Dispatcher I TEX-1704-900379
San Francisco Public Works
$29.48 - $35.81/hour; $5,109.00 - $6,208.00/month; $61,308.00 - $74,490.00/year
Continuous
Status
1822 Administrative Analyst PEX-1822-106018
Airport - San Francisco International
$43.14 - $52.44/hour; $7,477.00 - $9,089.00/month; $89,726.00 - $109,070.00/year
Friday,
November 12, 2021 5:00 PM
Status
1823 Senior Administrative Analyst PEX-1823-904518
Department of Emergency Management
$50.29 - $61.11/hour; $8,717.00 - $10,593.00/month; $104,598.00 - $127,114.00/year
Continuous
Status
1823 Senior Administrative Analyst TEX-1823-114025
Department of Emergency Management
$50.29 - $61.11/hour; $8,717.00 - $10,593.00/month; $104,598.00 - $127,114.00/year
Continuous
Status
2218 Physician Assistant tex-2218-903153
Department of Public Health
$84.28 - $119.30/hour; $14,608.00 - $20,679.00/month; $175,292.00 - $248,144.00/year
Continuous
Status
2230 Physician Specialist PEX-2230-PH9000
Department of Public Health
$92.70 - $131.25/hour; $16,068.00 - $22,750.00/month; $192,816.00 - $273,000.00/year
Continuous
Status
2232 Senior Physician Specialist PEX-2232-PH9000
Department of Public Health
$102.20 - $141.26/hour; $17,715.00 - $24,486.00/month; $212,576.00 - $293,826.00/year
Continuous
Status
2242 Senior Psychiatric Physician Specialist


(Behavioral Health Services Division)

PEX-2242-904056
Department of Public Health
$123.40 - $174.63/hour; $21,389.00 - $30,268.00/month; $256,672.00 - $363,220.00/year
Continuous
Status
2303 Patient Care Assistant TEX-2303-904364
Department of Public Health
$27.53 - $42.09/hour; $4,771.00 - $7,295.00/month; $57,252.00 - $87,542.00/year
Continuous
Status
2328 Nurse Practitioner (All Specialties) TEX-2328-903172
Department of Public Health
$84.28 - $119.30/hour; $14,608.00 - $20,679.00/month; $175,292.00 - $248,144.00/year
Continuous
Status
2583 Home Health Aide TEX-2583-104652
Department of Public Health
$22.54 - $27.33/hour; $3,907.00 - $4,736.00/month; $46,878.00 - $56,836.00/year
Continuous
Status
2622 Dietetic Technician TEX-2622-112875
Department of Public Health
$29.34 - $35.65/hour; $5,085.00 - $6,179.00/month; $61,022.00 - $74,152.00/year
Continuous
Status
2905 Resource Coordinator – Match and Placement Specialist TEX-2905-113045
Homelessness and Supportive Housing Services
$30.05 - $46.15/hour; $5,209.00 - $7,999.00/month; $62,504.00 - $95,992.00/year
Continuous
Status
3208 Pool Lifeguard (SF Pools) TEX-3208-903974
Recreation and Parks
$21.14 - $21.14/hour
Continuous
Status
3278 Recreation Facility Assistant TEX-3278-902040
Recreation and Parks
$17.76
Continuous
Status
3279 Recreation Leader TEX-3279-059010
Recreation and Parks
$19.45 - $29.94/hour
Friday,
October 29, 2021 5:00 PM
Status
3630 Librarian 1 TEX-3630-092162
Public Library
$41.70 - $50.69/hour
Continuous
Status
5504 Project Manager II (Capital Programs and Construction) PEX-5504-098352
Municipal Transportation Agency
$184,574.00 - $184,574.00/year
Continuous
Status
6130 Safety Analyst


(SIP Program Operations - Safety Unit Lead)

TEX-6130-904565
Homelessness and Supportive Housing Services
$58.51 - $71.11/hour; $10,142.00 - $12,326.00/month; $121,706.00 - $147,914.00/year
Continuous
Status
6220 Inspector of Weights and Measures TEX-6220-110405
Department of Public Health
$33.23 - $40.38/hour; $5,759.00 - $6,998.00/month; $69,108.00 - $83,980.00/year
Continuous
Status
7308 Cable Splicer (Specialty A)


(A)

TEX-7308-103444
Department of Technology
$51.66 - $62.81/hour; $8,955.00 - $10,888.00/month; $107,458.00 - $130,650.00/year
Continuous
Status
7308 Cable Splicer (Specialty B)


(B)

TEX-7308-112178
Department of Technology
$49.91 - $60.68/hour
Continuous
Status
7338 Electrical Line Worker (Specialty B)


(B)

TEX-7338-104080
Department of Technology
$58.31 - $58.31/hour; $10,108.00 - $10,108.00/month; $121,290.00 - $121,290.00/year
Continuous
Status
7350 Transmission and Distribution Line Worker TEX-7350-904532
Public Utilities Commission
$64.31 - $64.31/hour; $11,148.00 - $11,148.00/month; $133,770.00 - $133,770.00/year
Continuous
Status
7362 Communications Systems Technician TEX-7362-112897
Department of Technology
$55.55 - $67.53/hour; $9,629.00 - $11,704.00/month; $115,544.00 - $140,452.00/year
Continuous
Status
7372 Stationary Engineer, Sewage Plant PEX-7372-904222
Public Utilities Commission
$56.19 - $56.19/hour; $9,739.00 - $9,739.00/month; $116,870.00 - $116,870.00/year
Continuous
Status
8201 School Crossing Guard TEX-8201-903968
Municipal Transportation Agency
$22.74 - $22.74/hour
Continuous
Status
8234 Fire Alarm Dispatcher TEX-8234-107189
Department of Technology
$36.51 - $44.38/hour
Continuous
Status
8274 - Police Cadet TEX-8274-063532
Police
$20.08 - $24.34/hour
Continuous
Status
9774 - Senior Community Development Specialist I TEX-9774-112509
Mayor
$47.33 - $57.50/hour; $8,203.00 - $9,967.00/month; $98,436.00 - $119,600.00/year
Continuous
Status
9910 People Science & Strategy Associate TEX-9910-904447
Public Utilities Commission
$29.00 per Hour
Continuous
Status
9920 Public Service Aide - Assistant to Professionals (2021) TEX-9920-108284
Public Utilities Commission
$22.65 - $22.65/hour
Continuous
Status
9922 Public Service Aide - Associate to Professionals (2021) TEX-9922-100332
Public Utilities Commission
$24.78 - $24.78/hour
Continuous
Status
9976 - Technology Expert I (Cloud Infrastructure Specialist) PEX-9976-904540
Building Inspection
$141,934 - $178,516/year
Continuous
Status
Attorney (Civil/Criminal) PEX-8177-070981
District Attorney
$60.91 - $106.70/hour; $10,558.00 - $18,495.00/month; $126,698.00 - $221,936.00/year
Continuous
Status
P103 Per Diem Registered Nurse (All Specialties) TEX-P103-064287
Department of Public Health
$85.03 - $111.70/hour
Continuous
Status
Principal Account Clerk TEX-1634-106572
Controller
$37.44 - $45.50/hour; $6,489.00 - $7,887.00/month; $77,870.00 - $94,640.00/year
Continuous
Status
Q-0 Reserve Police Officer TEX-Q000-900260
Police
Continuous
Status
Senior Human Resources Analyst TEX-1244-904557
Human Resources
$110,422.00 - $134,134.00/year
Continuous
Status
Reassignment and Transfer Opportunities
Suspended
Job opening listings that match the search filter.

| Job Title | Department | Salary | Filing Deadline | Status |
| --- | --- | --- | --- | --- |
| 1063 Microsoft Power Business Intelligence Developer TEX-1063-103474 | Department of Technology | $48.45 - $60.99/hour; $8,398.00 - $10,571.00/month; $100,776.00 - $126,854.00/year | Continuous | Status |
| 1952 Purchaser PBT-1952-080592 | Temporarily Suspended | $6,431.00 - $7,817.00/month; $77,168.00 - $93,808.00/year | Continuous | Status |
| 6334 Chief Building Inspector PBT-6334-065419 | Building Inspection | $67.53 - $82.09/hour; $11,704.00 - $14,229.00/month; $140,452.00 - $170,742.00/year | Continuous | Status |
Powered by